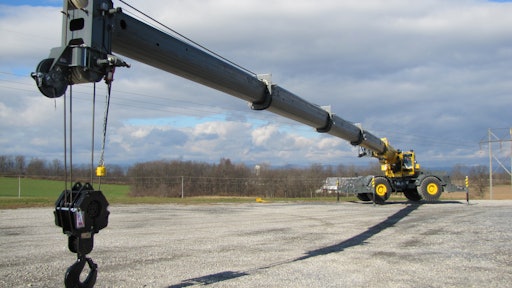 Among the mobile cranes at CONEXPO 2014 sure to attract attention will be the new Grove RT770E rough-terrain crane. The 65 t (70 USt) capacity crane offers the longest boom in its class, at 42 m (138 ft.), and is specially designed to give customers all the benefits of a traditional Grove rough-terrain crane, but with extra-long reach.
Paul Cutchall, Rough-Terrain Product Manager for Manitowoc Cranes in North America, says the new technology and cutting edge design of the RT770E make it a logical choice to be shown at CONEXPO.
"We're launching the RT770E into probably the most popular capacity class, so we knew we had to make it stand out from the crowd, and with its boom design I believe we've done that," he says. "We were able to lengthen the boom without adding more size and weight to the chassis. This enables the crane to be maneuverable, while delivering greater lift capacity and longer reach than other cranes in its class. All of which means it will receive plenty of interest at CONEXPO."
The Grove RT770E's five-section, full-power boom features single-cylinder technology that eliminates the need for a hydraulic hose reel, which lightens the boom, and in turn, the entire crane. The design also eliminates the need to install boom inserts, which requires an assist crane, saving both time and money for customers.
The 42 m (138 ft.) boom gives operators the reach of a larger rough-terrain crane, but without having to upgrade to the 75 t (80 USt) to 80 t (90 USt) crane class, in which cranes are heavier on the road and require more space on the job site.
The RT770E's boom telescoping system offers "A" and "B" mode selections that maximize load chart capacities in both the structural and stability section of the load chart. This enables the operator to easily choose the mode that best fits the lift.
The RT770E has a compact (8 m) 26.2 ft. x 3.33 m (11 ft.) chassis that enables it to be transported easier. Again saving customers time and money, the size eliminates the need for more expensive hauling permits that larger and heavier cranes require.
A Cummins 6.7 l engine powers the crane, and it has both four-wheel drive and four-wheel steering. It can be fitted with a 10.1 m (33 ft.) to 17.1 m (56 ft.) bi-fold swingaway that combines with the main boom to reach 59.1 m (194 ft.) and extend working radius to 43.9 m (144 ft.).
Consistent with Grove's efforts to standardize crane lines, the RT770E has the same carrier, controls, LMI, valves and counterweight of the RT765E-2. It also shares the Full Vision cab. This streamlines maintenance for companies with more than one Grove rough-terrain crane.