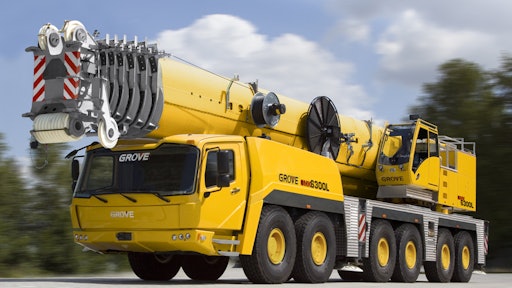 Manitowoc Cranes will feature two of its largest and most successful Grove all-terrain cranes at CONEXPO 2014: the new Grove GMK6400 and the GMK6300L. Both all-terrain cranes reflect the latest in lifting technology and possess advances not found on other cranes.
The two all-terrain cranes will be shown at Manitowoc's booth during the premier construction trade show that takes place in Las Vegas, NV, from March 4 to 8. Some 2,400 exhibitors and 130,000 attendees are expected at the show.
Grove GMK6400
The GMK6400 is one of Grove's newest offerings and the lifting industry's most powerful six-axle crane. Its 400 t (450 USt) capacity offers the highest lifting capability of any crane in its class and it has a variety of cutting-edge features that crane users won't find anywhere else.
Global Product Director for All-Terrain Cranes, Astrid Hager-Guthrie, says the GMK6400 boasts a variety of upgrades that will help customers increase efficiency, while it remains easy to use.
"We're very excited to show the GMK6400 at CONEXPO," she says. "It has the best load chart in its class, a new drive system for the carrier never seen in this size category and a host of other unique features that won it the ESTA Innovation award at bauma 2013 in Munich, Germany – features such as the capacity-enhancing Mega-Wing-Lift attachment that can boost the crane's capacity by almost 70%, from 38 to 64 t (42 USt to 71 USt) at 60 m (197 ft.)."
The single engine drive system is one of the most innovative new technologies debuting on the GMK6400 and it drives both the carrier and superstructure. This reduces its overall weight and improves fuel economy. Manitowoc's engineers reallocated the weight savings to other parts of the crane's design, further boosting capacity.
The GMK6400 has a full-power, five-section MEGAFORM boom with Twin-Lock pinning that measures 15.4 to 60 m (51 to 197 ft.). When paired with the luffing jib that extends from 25 to 79 m (82 to 259 ft.), the maximum system length reaches 134 m (438 ft.). With this setup the crane can perform lifts no other six-axle, or even seven-axle, crane can currently achieve.
Grove also paid particular attention to the crane's ease of rigging, with a self-rigging auxiliary hoist, removable outrigger box (ROB), counterweight and a self-rigging Mega-Wing-Lift attachment that can be rigged in less than 20 minutes.
Symmetrical counterweight slabs are another feature that make for easy transportability. The MegaDrive system gives the crane both conventional and hydrostatic drive capabilities. Both all-wheel and separate steering of the third to sixth axles provide ultimate maneuverability.
GMK6300L
Also at Manitowoc's CONEXPO booth will be a Grove crane that's seen global success: the GMK6300L. The 300 t (350 USt) capacity all-terrain crane has won customers on five continents thanks to its 80 m (262 ft.) boom, the longest in its class. Hager-Guthrie says several of the crane's features have contributed to the success of the GMK6300L.
"The GMK6300L has been a huge success for Manitowoc, so it's only fitting that the crane be featured at CONEXPO," she says. "It's a versatile crane that's very mobile, both on and off the job site. It commands a large lifting capacity and long reach, while its compact footprint enables it to fit into tight working quarters."
The best-in-class reach of the GMK6300L is owed to its seven-section, 80 m (262 ft.) Twin-Lock boom and Manitowoc's patented Megaform design for optimized rigidity and capacity. For even further reach, a 37 m (121 ft.) jib is available. At its high reach – a maximum system length of 117 m (384 ft.) – the crane can still lift an impressive 2 t (2.2 USt). With very strong load charts, the crane has a 31% lifting advantage over other cranes in this class, making the GMK6300L ideal for heavy lifts at tall heights.
Grove's patented Megatrak system provides optimum travel for the GMK6300L, both on and off the road, making it ideal for both rugged job sites and city streets. The all-wheel steered crane has the latest steer-by-wire technology included on the first, second, fifth and sixth axles. Its cab can accommodate up to three crew members and has ergonomic positioning of the instruments and controls.
"All of these features have contributed to the success of the GMK6300L, and it has received such a warm reception from our customers," Hager-Guthrie says. "We're eagerly awaiting CONEXPO 2014 and are confident our Grove all-terrain cranes will be one of the main attractions. We look forward to connecting with our customers and showing them these innovative all-terrain cranes."