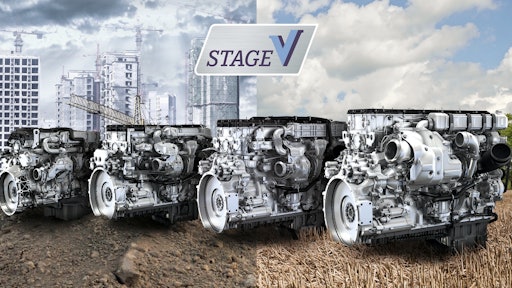 The Rolls-Royce features a full platform of MTU dual-certified engines that meet both EPA Tier 4 and EU Stage V emissions requirements. These engines are also available in variants that meet the GHG17 on-road emissions requirements.
Based on the proven Mercedes-Benz and Detroit engines used in on-highway applications, these engines are optimized for use in agricultural, construction, industrial, oil & gas and underground mining applications, offering the lowest particulate matter (PM) levels in the power range and one of the lowest fuel consumption levels on the market. They also provide higher torque, a wider power range, extended oil change intervals compared to the prior Tier 4 versions and most models are CANMET (Canada Centre for Mineral and Energy Technology) approved. In addition, MTU products and systems are fully backed by customized life-cycle support solutions, including optional extended warranty options.
"The dual-certified platform is a next-generation line of engines, created by looking ahead at what our customers' needs are and will be," said Greg Pelton, senior manager of Sales and Application Engineering, Construction, Industrial and Agriculture at MTU America.
The Dual Certified platform offers power ranges from 154-228hp for the 5.1L 4R1000 up to 510-644hp for the 15.6L 6R1500 engine. Already being sold in Europe, the dual-certified platform is now available to customers in North America.
In addition to the Detroit DD13 and DD16, MTU now offers the Detroit DD5 and DD8 engines for construction and industrial applications requiring on-road GHG17 emissions certification. With the DD5 providing 240hp (5.1L) and the DD8 offering 375hp (7.7L), they are the first on-road certified engines in this power range offered by MTU.
The emphasis on eco-friendliness and climate neutrality extends beyond just the dual-certified engines for construction and agricultural applications.