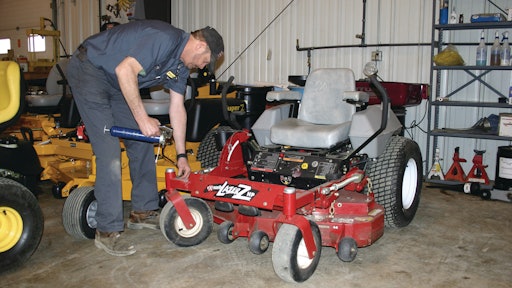 The commercial lawn and garden equipment market exceeds $2 billion, and that doesn't include utility, light construction and landscaping equipment. When a market is that large, it pays to keep customers happy. One of the ways OEMs do this is by making the equipment easy to service.
"Machine serviceability for any commercial application is key," says Bill Harley, president and CEO of the Outdoor Power Equipment Institute (OPEI). "Lawn, garden and landscape contractors run their equipment every day for long hours during the busy season — it's how they make their money. They put high demands on the equipment and the manufacturers, insisting upon quality, reliability and serviceability in the products they buy."
He points out that this equipment is more sophisticated than it was in the past. "Compared to 10 years ago, the machines in this market segment are 70% cleaner with complex emissions-reducing systems on them. They are also 70 to 75% quieter, especially commercial handheld blowers that have become so popular. Time is money, you know, and they're faster than rakes for cleaning up jobsites."
Maintenance matters
According to OEMs contacted for this article, commercial customers tend to do their own maintenance work. This decision seems to depend on company size.
"It depends on the organization's size, breadth and scope of business," Sean Sundberg, John Deere business-to-business planning manager (John Deere Worldwide C&CE Division) points out. "Contractors who are new to the business, along with smaller business operations, tend to use a trusted dealer to do their product maintenance. The word 'trusted' is very important, as these contractors rely on the dealer to keep them running and able to make money."
He adds, "larger companies that have multiple equipment fleets and crews tend to do their own preventive maintenance, as well as some minor repair work. That allows them to control that aspect of the business better and be more productive by reducing downtime."
Dan Dorn of Exmark Mfg. Co. agrees. "Those contractors who are just getting into the business often invest their time in recruiting new accounts. As a result, they let the dealer perform routine maintenance," he says. "But as the company grows, gains more experience with its equipment and develops an established account base, the contractor will assume this responsibility.
"Some, regardless of size or time in business, enjoy this aspect and have a great deal of pride in how their equipment is maintained. They prefer to perform these tasks themselves."
Robert Schroer, of Yanmar America Corp., a maker of engines for this category of equipment, agrees. "In our experience, most landscapers do their own maintenance, while construction contractors tend to use dealers for machine maintenance."
"Our Dingo compact utility loaders, for example, are easy to perform routine maintenance on, which is why most landscaping and commercial contractors prefer to do the majority of the work themselves," says Dan Roberts, technical service representative for the Toro Co. "Contractors may turn to their dealers to perform services beyond routine maintenance."
Brett Ohlen, New Holland marketing specialist for the residential, commercial and specialty customer segment team, agrees. "Most landscaping and commercial contractors do their own service," he says.
All our OEM spokesmen agree that following the recommended service is key to contractor productivity, though service intervals vary from daily, weekly and monthly tasks to service according to hours of use. Preventive maintenance includes checking, refilling and changing oil and hydraulic fluid; changing filters for air, oil and hydraulic fluid when necessary; checking belt wear and tension; sharpening blades; greasing wear and pivot points; cleaning radiator fins; checking engine coolant levels, assessing attachments and locking pins, if applicable, etc. — all on a regular basis.
"Exmark engineers our components and mower design to reduce the areas requiring daily or weekly maintenance," Dorn says. "Our goal has been to focus on monthly or annual maintenance schedules to maximize contractor productivity and profitability."
These men also agree that "without regular maintenance, the life of the unit significantly decreases," Ohlen says. "There is also the potential for engine damage, as well as the potential for damage to the transmission and hydraulic systems."
"Failure to properly maintain your equipment may void the warranty, too," John Deere's Sundberg adds. "Top-notch contractors will not allow maintenance to take a back seat to cutting lawns. They extend their days and get the work done to keep the machines running properly."
Schroer echoes that statement. "Failure to perform scheduled maintenance that results in engine failure may void the engine warranty, but a good contractor realizes a well-maintained machine, with minimal downtime, is vital to ensuring customer satisfaction."
Design issues
With changing customer demands for compact, easy-to-transport equipment and stricter environmental regulations, commercial lawn, garden and landscaping OEMs face design challenges.
"Even though machines are getting more compact, you must find a way to design the product so the mechanics can easily get to all the service areas," Sundberg says. "It's challenging to make everything fit together, and work seamlessly, while controlling noise, vibration, heat and emissions."
Ohlen agrees. "The engineering challenge is to ensure that service points are easily accessible," he says. "New Holland aims to make all regular service points available without having to open a hood or remove panels. With all product improvements, we try to improve serviceability, as well."
He cites a recent change in the company's Class II compact tractors. "We upgraded the transmission, improved engine horsepower, improved system return-to-neutral responsiveness and eliminated the power steering reservoir, incorporating it in the system hydraulics," Ohlen says. "We did so to improve performance, reduce service complexity and reduce operating noise levels."
Exmark also focuses on serviceability. An example is its Triton equipped Lazer Z lineup. "The spindle housings have a new design that allows the blade to slip a small amount when it encounters a severe impact. By doing this, the energy is dissipated and eliminates self-tightening and reduces potential damage," Dorn explains. "The end-user appreciates this design as the blade bolt will not become so tight that they can't remove the blades easily, which leads to the neglect of proper blade maintenance."
Easy access is also a Toro design criteria, so engineering works closely with service technicians to make sure serviceability has a role in new designs.
Pointing to the Dingo compact utility loader as an example, Roberts lists accessibility and other means of making maintenance doable for contractors. "Engine dipstick and oil fill are colored yellow for identification. Air cleaner service is as easy as removing a single wing nut or two snap clips on the cover," he says. "Oil drains are accessible on the outside of the frame or a quarter turn valve can be opened to drain the oil. The oil and fuel filters are located next to each other for ease of removal. Batteries are protected from the elements but can be easily accessed for service. The hour meter even flashes at preset time intervals to remind the operator that engine and hydraulic systems need service."
Engine suppliers work on the same issues. "We attempt to make maintenance procedures and access to maintenance components as simple as possible," Yanmar's Schroer says. "When working with a machine OEM on a new engine installation, part of the application review process, we emphasize access for maintenance."
Regulations can impact design
While contractors do much of their own service, emissions regulations on larger engine, fuel-injection and exhaust components require new systems contractor mechanics might not be familiar with. Usually, any such service work must be done by a dealer's certified service technician or, for tamper-proof fuel-injection systems, an authorized fuel-injection equipment (FIE) service facility.
Roberts says, "The gasoline engine in the Toro Dingo uses nonadjustable carburetors. This is due to the strict emission laws. The air-fuel mix is a fixed setting and is protected by a cover. Diesel engines use a wire with a unique crimp to hold the governor. You can easily identify if it has been tampered with, which can void any warranty the engine may have."
Sundberg points out that noise standards are next as sound emissions are also becoming regulated. "We also have internal serviceability standards that we try to meet or exceed with every product we develop," he says.
None of these OEMs market solely in the United States, but find standards for serviceability abroad not that different. What varies are some safety items, language for the manuals and options offered, like engine block heaters which are popular in Canada.
Serviceability sells
Because servicing ease is so important to contractors, OEMs market their machine's serviceability features and dealer networks.
"Serviceability plays into many contractors purchasing decisions. The easier a machine is to service the more likely an operator is to perform needed maintenance," Roberts says. "Contractors want to know they can take care of their own machine and get parts when they need them."
"Good serviceability assures maximum up-time and minimal downtime, resulting in satisfied customers and maximum return from the investment in the equipment," Schroer points out.
It pays to take care of the products and let customers know. "We provide equipment that is easier to service and maintain, thereby making it easier for customers to maximize their productivity," Sundberg asserts. "John Deere is known for the technical capabilities held by our dealership organizations, and this does help market our products."
Dorn says, "Exmark not only focuses on the accessibility to critical components but also parts commonality throughout our line. An end user will often find the same parts, such as spindles, used in our riders and in our intermediate walk-behinds. Dealers and end users appreciate this because it reduces their downtime and makes them more efficient."
"Serviceability is one of New Holland's key sales features," Ohlen adds. "We design serviceability into our units in order to make servicing the units simple and easy for our customers to do."
Companies in this article