In July 2023, with data supplied by ITR Economics, we reported the U.S. construction machinery in the 12 months through August was 13.9% above the year-ago level, although the pace of rise was slowing. Economists then suggested rising interest rates were a possible hindrance to investment in construction and related machinery, putting down-side pressure on demand for new orders.
This month, ITR's August 2023 data shows the most recent 12 months of US Construction Machinery New Orders came in at a record-high $47.4 billion, a 13.2% increase from the year-ago level. However, a particular set of challenges including higher interest rates, waning corporate profitability and housing market struggles indicate potential weakness ahead for New Orders, with equipment rentals likely growing in popularity relative to equipment purchases.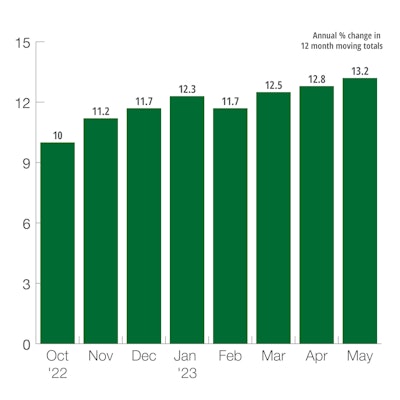 Click here to check out this month's full set of Equipment Market Outlook data, including leading indicators and production and shipment updates.
NOTE: All data for charts supplied by ITR Economics