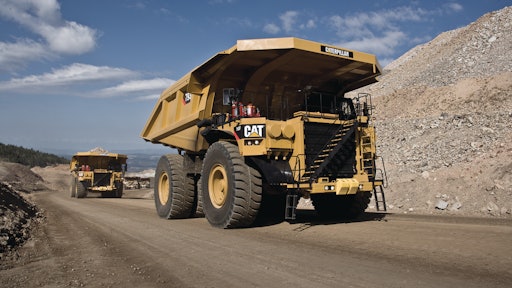 Wow! Caterpillar Inc. announced it will purchase Bucyrus Intl. Inc. (BII) for $7.6 billion cash plus assumption of $1 billion of BII debt for a total transaction price of $8.6 billion or $92 per share, a 32% premium to the BII closing price the day before. This year BII will have revenues of approximately $3.75, which are all mining related. Caterpillar's estimated 2010 mining related revenues are $3.9 billion. The deal will close in mid-2011. If BII backs off from the deal, it will pay Caterpillar approximately $200 million.
There is only one product category between the two companies that possibly overlaps (trucks), so it is reasonable to add together revenues from both companies (Wall Street would call it accretive) totaling $7.65 billion in mining equipment sales if they were one company today. If that were the case more than 18% of Caterpillar's revenues would be from mining, making Caterpillar far and away the largest manufacturer of mining equipment worldwide. Komatsu is expected to have 2010 mining equipment revenues of $4.8 billion and Joy Global, which is BII's direct competitor, will have 2010 revenues of approximately $3.4 billion.
Caterpillar will fund the acquisition with up to a $2 billion in a share offering, $1 billion cash and $5 billion of debt. Company management was careful to point out the final financing will be made with an eye to preserving Caterpillar's A/A2 credit rating which gives it access to low interest money. Caterpillar expects to be able to trim $400 million of expenses from the combined business. Most of those savings will start in 2012.
I am proud to say that in our December 2009 issue of Machinery Outlook, I speculated that this exact transaction made a great deal of sense. The relevant paragraphs from the article, "Bucyrus To Acquire Terex Mining Division," follow:
Now that Bucyrus will own the Terex mining equipment business, there are some interesting questions about its future plans. Until this point the company has not competed with Caterpillar. Now that it owns an electric mining truck business, it will compete with them. Furthermore, a fairly large percentage of the Terex O&K hydraulic mining shovels are distributed by Caterpillar dealers in key mining markets. A major risk to Bucyrus is Caterpillar's willingness to allow that distribution arrangement to continue.
And finally, we speculate that once Bucyrus completes the acquisition, it might become an attractive takeover target for Caterpillar. Caterpillar has hinted that it is considering expansion opportunities in the mining equipment arena. Bucyrus's cable shovel and dragline product lines would fit nicely with Caterpillar's as well as the Bucyrus, and now Terex, drill products. We already know that the O&K mining shovel line fits with the Caterpillar dealer organization. Bucyrus' underground mining products dovetail nicely with Caterpillar's expansion ambitions in that product area, as well. Caterpillar does not build high-wall mining equipment. The only product line where there would be a conflict is the electric mining truck line which was originally the Unit Rig business.
Machinery Outlook newsletter, December 2009
What does BII gain?
Massive worldwide distribution for sales, and product support. Caterpillar and BII will have to work out which products will be sold through the Caterpillar dealer network and which ones will be retained for direct sales. Most of Caterpillar's products are sold through its dealer network with the exception of Solar gas turbines and its railroad products. One BII candidate for direct sales will probably be draglines, some of which cost $100 million.
Manufacturing technology and Caterpillar purchasing power. Many of BII's products are built as one-off units and would benefit from the Caterpillar Production System expertise as well as Caterpillar's purchasing power, especially for steel and components. Caterpillar will eventually be able to supply its diesel engines and drive train components for use in BII machines as well.
Caterpillar's engineering support. Caterpillar has a huge engineering and research budget some of which could easily be repurposed to assist BII with its products.
Sales advantages. The mining industry has become extremely concentrated in the past 10 years. Both BII and Caterpillar management commented that their customers want fewer suppliers and would like to work with one that can offer an entire mine system.
Financing. Caterpillar Financial will be able to facilitate and offer outright financing to mining customers. Cat Financial recently financed a complete spread of equipment for a start up iron ore mining company in Northern Scandinavia.
BII shareholders will receive a very attractive price for their shares compared with other companies in the industry.
What does Caterpillar gain?
An installed base of BII products that Caterpillar estimated has a replacement value of $40 billion. Caterpillar dealers will be able to improve after sale support for BII products. BII's annual revenues are divided into new equipment, 49%, and parts, 51%.
One-stop shopping to the mining industry, which both Caterpillar and BII management have said their customers are requesting.
Ownership of Terex (O&K) hydraulic shovel product line. Approximately 30% of the $500 million of annual sales of the O&K machines have been sold by Caterpillar dealers; the rest has been sold mostly on a direct basis. Availability of the machines to the rest of the Caterpillar network will undoubtedly result in bonus business for Caterpillar. The O&K excavators have been among the most successful in the marketplace. The population of machines is probably among the highest in the business, having been sold for nearly 30 years.
More credible mine planning recommendations because they can offer all the alternatives. For example, they can offer either an electric drive truck or a mechanical drive truck: or, they can offer cable shovels or hydraulic shovels. As it is now, Caterpillar often favors the type of loading or hauling machine they build over another.
Redeployment of assets. The assets they were preparing to spend on development of their own, unique hydraulic shovels, that were to be built in their plant in Aurora, Illinois, can now be used elsewhere It will be interesting to see if Caterpillar now decides to build the O&K machines there as well as in Germany.
Additional underground mining opportunities. Underground mining is becoming increasingly important, especially as mineral commodity prices have risen, which makes it a good addition to surface mining operations where it's not feasible to mine deeper from the surface. The BII underground products, which it added in 2007 with its acquisition of DBT, in combination with the Caterpillar offering that is built in Australia will provide customers with a good alternative as well.
Comments
This acquisition will not be simple for either company. BII is a much smaller enterprise integrating with the much larger Caterpillar. Caterpillar is planning to move its mining equipment headquarters to BII's South Milwaukee, WI, headquarters, which we believe is a smart move. Culture shock for BII employees (quantity unknown) is less likely than if it were the other way around.
The huge population of BII products is both an amazing opportunity and a problem. Parts for the 25 or 30 year old BII legacy products usually have to be made when ordered; they're not sitting in a warehouse. Workers refer to the engineering blue prints for those machines to see what if any modifications were made to the original design.
BII management said in their joint Wall Street call with Caterpillar management that they did not offer to sell the company to any other companies. I would not be surprised to see a shareholder class action lawsuit about this despite the fact that the $92 per share values BII at a 17.8 times earnings per share multiple compared with Caterpillar which is selling for approximately 15 times expected 2011 earnings.
BII (Terex) builds its electric mining trucks in China and sells them mostly in the Asia/Pacific region. Caterpillar management was careful to say that they sell mechanical drive trucks and that their electric mining trucks are still in development. The truck product lines are the only ones where it could be argued there is a product overlap between the two companies and the purchase by Caterpillar would remove a competitor from the market which the regulatory agencies might find objectionable.
Caterpillar is placing a big bet on the long term viability of the mining industry. As we all know, mineral commodity prices can be very cyclical. The company is essentially betting on China and India's determination to greatly improve the standard of living of its people. Those countries are growing their GDP at 8% to 10% per year and consuming huge quantities of iron, copper, aluminum and coal. The time to manufacture BII's big ticket products can sometimes be a year or more. The long lead times to build the products and the expense to develop a mine and the size of the expenditure made by mine operators will insulate Caterpillar from some, but not all of that cyclicality. A sudden bump in the road to prosperity could cause unexpected drops that could be hard for a combined Caterpillar/BII to deal with.
Companies in this article