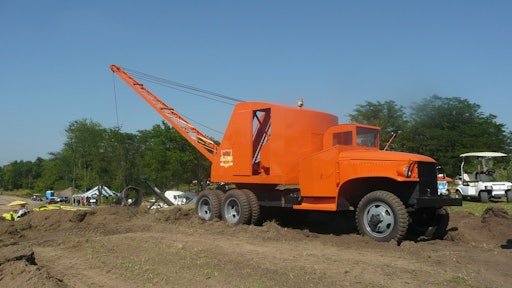 For the first few years of their manufacture, truck-mounted cranes were designed on the principle of the crane being placed on a commercial truck. In the early 1930s, Michigan Power Shovel Company pioneered the concept of a purpose-built carrier for the crane, and this eventually became the standard for most truck cranes. But smaller cranes continued to be mounted on trucks designed for other purposes.
In 1922, three years after officers of the Thew Shovel Company developed the first truck-mounted crane after the Army Expeditionary Forces had requested a highly mobile crane for dock work in France towards the end of World War I, Luke Smith advanced the concept of the truck-mounted excavator by mounting a military surplus upper works on a second-hand truck to create the first truck shovel. The concept entered full production under the name of the Quick-Way Truck Shovel Company in 1929, and over 2,000 Quick-Way truck excavators were sold to the U.S. Armed Forces during World War II.
Vern Schield of Waverly, IA, designed and built a small dragline in 1942 for use in the Schield family's lime quarry. Mounted on a second-hand truck, it proved itself sound. His brother Wilbur joined him in assembling nine more in a barn at the quarry, and the concept of the Bantam excavator was established. Twenty-five more were built and sold by 1946.
At the end of the war, the mobile crane industry and the U.S. Armed Forces intersected again. As the war wound down, vast amounts of military equipment were rendered surplus. This included huge quantities of trucks, especially half-tracks and iconic "Deuce-and-a-half" 2-1/2 ton, 6x6 drive cargo trucks. Over 500,000 of these trucks were built by General Motors during the war, and the enormous quantities hitting the market at war's end made them highly affordable.
In these thousands of surplus halftracks and trucks, the industry had available to it a cheap, rugged, reliable vehicle that could traverse all manner of jobsite terrain. They saw a wide variety of uses in construction and quarrying, from service and sprinkler trucks to carriers for drills, cranes and more.
The Schield brothers saw a gold mine in these vehicles, and purchased them by the hundreds to serve as carriers for their draglines. In 1946, the Schields incorporated the Schield-Bantam Company and opened a factory in Waverly to mass produce them. Several thousand Bantam draglines, shovels, backhoes and cranes were mounted on military surplus vehicles.
Bantam eventually went to more conventional carriers, and the last Bantam lattice crane was built in 1976, ending a production run of over 12,000 machines. Bantam continued to produce hydraulic cranes and excavators until circa 1982 when it was absorbed into Koehring Company, which had acquired it as a subsidiary in 1963. The Waverly plant is still used today by Terex Corporation, a Corporate Member of the Historical Construction Equipment Association.
The Historical Construction Equipment Association (HCEA) is a 501(c)3 non-profit organization dedicated to preserving the history of the construction, dredging and surface mining equipment industries. With over 4,000 members in 25 countries, activities include publication of a quarterly educational magazine, Equipment Echoes, from which this article is adapted; operation of National Construction Equipment Museum and archives in Bowling Green, OH; and hosting an annual working exhibition of restored construction equipment. Individual memberships are $32.00 within the USA and Canada, and $40.00 US elsewhere. HCEA seeks to develop relationships in the equipment manufacturing industry, and offers a college scholarship for engineering students. Information is available at www.hcea.net, by calling 419-352-5616 or e-mailing info@hcea.net.