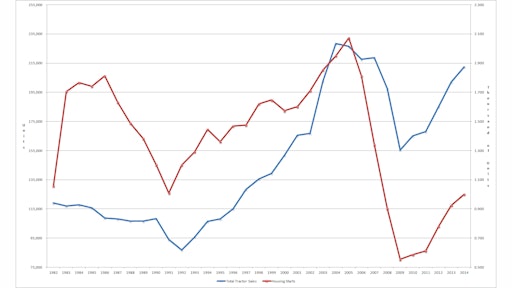 The farm tractor market is often thought of as one market; however, there are at least two distinct markets, each influenced by its own economic demand drivers and applications. The tractors sold to farmers to produce food and work around farm sites represent one market. They usually have 100 hp or more and are used to tow implements of one sort or other, hay wagons, hay balers, thrashers, windrowers, etc. Demand for this size category closely follows a statistic called farmers' net cash receipts, which is the amount farmers have left over after paying for all their input costs that include seed, fertilizers, fuel, etc.
Tractors under 100 hp are also employed for multiple jobs around farms, but increasingly are sold to part-time farmers, homeowners, nurseries, turf management companies, etc. Sales of units under 100 hp are influenced by housing-related statistics.
The 2013 total farm tractor market was slightly less than 202,000 units. Of that amount, approximately 158,000 units sold were under 100 hp. Almost all of these units are produced outside of North America and imported. The balance of approximately 44,000 units was over 100 hp and included nearly 7,000 four-wheel drive tractors. Almost all of the over 100 hp units are produced inside of North America.
Retail sales of tractors under 40 hp have been plotted alongside U.S. housing starts to illustrate the connection between the two time series (Graph 1). When housing starts are good, people spend money for mowing equipment, as well as purchase grounds care services. The under 40 hp category also includes tractors sold to sundown farmers, people who work in town and live on the outskirts with some land who farm in their spare time. The under 40 hp segment is expected to grow in 2014 by more than 16% and to continue the upward trend in 2015 with additional growth of about 9%.
The 40 and under 100 hp segment, a very large segment indeed, with slightly less than 60,000 units sold in 2014, is often associated with farming of corn, soybeans and vegetables, which are usually referred to as row-crops. This market is generally slow and steady from year to year. It is expected to be up slightly in 2014 and down slightly in 2015.
The money makers for the major farm tractor producers are the units 100 hp and over, four-wheel drive tractors and self-propelled combines. Farmers' net cash income influences the retail sales of these machines as illustrated in Graph 2.
The 2014 farmers' net cash income is expected to be approximately $130 billion. The consensus forecast for 2015 is that net cash income will come in at about $123 billion, a decline of approximately 5%. Since 2013, farmers' net cash income has declined approximately 8%. The two-year downturn is having a multiplier effect on sales of large tractors. The 2014 sales of large farm tractors is expected to decline by approximately 25% followed by a further decline in 2015 of about 7%. Exacerbating the new tractor sales decline is a surplus of low hour used tractors. The quantity of used tractors is so large that several manufacturers have introduced dealer programs for used equipment aimed at providing their customers with extended warranties, maintenance agreements and low interest financing. Most industry analysts expect the used inventory overhang to have an impact on new tractor sales for several years.
There is a similar problem with used combines impacting new combine sales. Combines are used once a year. Up until now farmers have been willing to keep upgrading their machines to have the latest and greatest gadgets and to assure they have the harvesting capacity when they need it. But sales have slowed. Deere just announced its Certified Pre-Owned (CPO) Equipment program to encourage farmers who own older machines to upgrade to newer used models.
One positive sign for the farm tractor markets going forward is that farmland prices have continued to increase which adds to the farmers' feeling of overall well-being. Real estate prices are not strongly correlated to farm tractor sales. In the early 1990 tractor sales declined, real estate prices continued their upward pattern. Again in 2002 tractor sales declined and the value of real estate was relatively stable. In 2007, there was a moderate drop in real estate values. In 2009 land values stopped declining and began to increase again.
This data has been included because land values are an indication of the farmers' borrowing capacity.
As long as land values stay relatively high, farmers should be able to weather any economic downturn, borrow to pay to store grains until prices are more favorable, and of course purchase tractors.