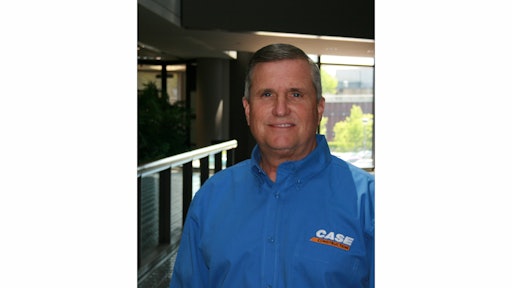 Responses from Jim Hasler, Vice President, CASE Construction Equipment, North America
GOVERNMENT
What government regulations, standards or bills were passed in the past year that most affected the way you do business and go to market?
The legislation that will most positively grow our industry is the passing of a long-term highway bill. In absence of that, individual states have been doing an excellent job of passing legislation to move transportation funding and construction forward. States like Washington, Iowa and Georgia have found political will and a sense of urgency in getting initiatives approved – both legislatively and at the ballot box. Texas goes back to the polls this November after passing successful transportation-related funding last year – and we're supporting that through our Dire States initiative, much like we did with Prop 1 in 2014. We are moving forward in a positive direction, but it will take both state and the federal action to bring our country's infrastructure up to where it needs to be to meet current demands.
POLITICS
Are there any presidential platforms that you are aware of with the upcoming 2016 election that you are keeping your eye closely on that could affect your business?
The social issues and viral sound bytes drive the current narrative, but we'll be looking for candidates to take seriously the domestic issues related to manufacturing, infrastructure and the general business climate, as well as foreign relations and trade programs that favor American exporters. The backbone of our nation is manufacturing and the varying industries it supports. That should be a top priority.
TECHNOLOGY OF THE FUTURE
Have you seen a shift toward smaller equipment? Is that affecting your product offerings?
We've seen a shift towards smarter equipment buying, and that is affecting how we design and align our products. Some of that is driven by size – for instance, we've boosted operating capacities in certain skid steer and CTL models while maintaining a comparable or smaller footprint. We've built technology into our backhoes that provides lifting capacities similar to a 7- or 8-ton excavator. Our excavators have become faster and more powerful to provide productivity that can rival larger machines while lowering fuel consumption, which seems intuitively contrary to what you'd expect.
Some of it is driven by emissions. CASE has worked to simplify Tier 4 Final engine solutions – including a large part of our product offering that requires no new or additional maintenance activities related to Tier 4 – and to enhance the performance of equipment through advances in hydraulics, electronics and machine intelligence. We're seeing that equipment buyers, maybe more than ever, are weighing carefully their production needs against equipment size, horsepower and operating capacities in order to achieve the optimal combination of operating cost and production.
What are the key customer requests that are most driving technology and vehicle development?
Small to midsize companies are struggling to keep up with the resources to manage the data and capabilities coming out of new technology in equipment. While technologies like telematics and machine control have been in the market for some time, these businesses don't always have the time/resources to train on what's possible to make their business and quoting process more efficient. We find customers requesting a professional partner in this journey. A brand and dealer with expertise in helping small to midsize businesses can act as a consultant and help them take advantage of the technologies embedded in equipment today which they are not fully utilizing. We see the OEM-dealer-customer relationship as critical in helping to guide them in how to connect the dots between emerging technologies and their business processes while simplifying the implementation and creating better visibility and predictability in their cost of operations and ownership.
INFORMATION TECHNOLOGY
How is your company participating in the information technology movement?
Our goal is to make these technologies as practical and intuitive for the end user as possible. All of this data and information is of no use to the equipment owner if it's not easy to understand, and if they don't know how to apply it to improve their work. We've added staff throughout North America dedicated to the training and support of these precision construction technologies. We've established specialists in dealerships throughout North America to help customers better understand these technologies and how they work on a wide variety of machines. We've partnered with Leica Geosystems to better integrate and design equipment with machine control technology. And we've continued to expand the functionality of our telematics systems by monitoring more parameters and partnering with a satellite provider to ensure continued global telematics connectivity regardless of how remote the jobsite is.
EDUCATION
What education programs do you offer or participate in to help cultivate the next generation of engineers?
CASE has made it a point to work with and support the education and training of engineers, diesel technicians and equipment operators. We recently donated a backhoe loader to Southeastern Community College in Burlington, Iowa for their construction and agriculture programs. CASE has also helped support programs at Washburn Tech in Kansas for heavy equipment diesel engine technicians, and at the Central Pennsylvania Institute of Science and Technology for diesel engine repair.
We're also working to connect veterans with skilled jobs in the construction and manufacturing trades. On Labor Day, CASE held a music festival in Racine, Wisconsin and partnered with the Wounded Warrior Project to draw attention the skills gap here in the U.S. and how veterans can help fill it. This event raised $10,000 and recognized organizations such as WWP, ATS Heavy Equipment Operator Training School and Veterans Outreach of Wisconsin for the work they do connecting veterans with jobs. Veterans interested in searching jobs available in these industries can get started through a page we developed on the CASE website: http://www.casece.com/en_us/Landing/Pages/jobs-for-vets.aspx
CHALLENGES & HURDLES
What new challenges have arisen that effect the way you design or manufacture your product? How you do business? How you go to market?
Emissions regulations continue to drive this as manufacturers roll out Tier 4 Final machines. CASE has always made it a point to go beyond compliance so that machines are not only better for the environment, but more efficient/productive for our customers. Meeting emissions is simple if you take a one-size fits all approach and pass the cost on to the customer. For us, making it better for customers by matching the right solution to the application, and complementing that with significant gains in productivity and efficiency, has always been our top priority. This is a major obstacle, but with our partner in FPT and a nationwide support network that understands each technology and product platform, we're definitely up for the challenge.