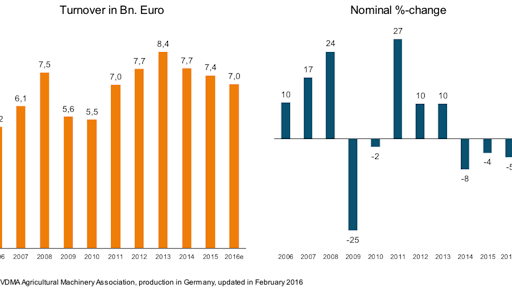 Ever since 2014, agricultural equipment manufacturers have been seeking the end of the demand freefall that came about after four years of strong equipment demand and high commodity prices. In a recent survey conducted by the Agrievolution Alliance—which represents 13 organizations and over 6,000 companies around the world—the current situation of the global agricultural industry was evaluated as negative. Only 19% of its companies regarded their current business to be "good" while 34% described it as "unfavorable." The U.S. and Brazil were particularly pessimistic about market conditions with over 50% of companies claiming current business to be "unfavorable." Download the full Agritech Business Barometer report at www.agrievolution.com.
Recently, major equipment manufacturers have been lowering their forecast numbers for future equipment demand and revenue projections, while also aligning their workforce with those numbers. John Deere, for example, announced in early March that is was laying off approximately 125 employees at two of its factories in Iowa to balance its manufacturing workforce with market demand for products.
Surprisingly, in a recent U.S. Ag Tractor and Combine Report released in February of 2016 by the Association of Equipment Manufacturers (AEM), small-sized tractors (under 40 hp) had a strong 19.7% uptick in unit sales compared to 2015 numbers. Both mid-sized tractors (between 40 and 100 hp) and high-horsepower tractors (over 100 hp) saw continued decline with high-horsepower tractors falling almost 40% from 2015 numbers. The significant decline in large tractors was surprising to some after a promising Section 179 tax credit extension was signed in December of 2015, however low commodity prices and large amounts of used inventories in the marketplace contributed to these sales numbers.
AEM's recent agricultural equipment market analysis showed that U.S. equipment exports dropped 13.5% in 2015, making it the third year of decline in a row, however not as steep a decline as in 2014 with a 29.2% drop.
According to AEM, the global economy is experiencing a long-term slump in commodity prices which has put downward pressure on agricultural exports. (Roughly 50% of U.S. agricultural equipment exports can be linked to sub-sectors, including commodity crops, livestock, and fresh produce and high-value crops, according to a 2015 Top Markets Report for Agricultural Equipment conducted by the U.S. Dept. of Commerce International Trade Administration.)
Coupled with the USDA's indication that U.S. farm income will continue to decline into 2017, among other global influences, it appears that equipment declines will continue further into 2016.
Germany is Europe's Bright Spot
The picture in Europe is similarly bleak in many regions. According to the CEMA—the European Association of the Agricultural Machinery Industry representing 4,500 manufacturers of agricultural equipment—European sales of soil working, sowing, fertilizing and plant protection equipment are experiencing double digit declines. According to preliminary estimates, the overall market for arable farm machines in the EU fell by around 14% to €3.09 billion in 2015. For 2016, the market is expected to decline a further 11% (read more, 12183846).
A potential bright spot in the EU is Germany. According to the VDMA (German Engineering Federation, Verband Deutscher Maschinen- und Anlagenbau) Germany's production turnover of €7.38 billion shows that its agricultural machinery industry is holding its ground, even in difficult times. The ongoing economic weakness in this industrial sector has reduced the revenue of the manufacturers of agricultural machinery and tractors in 2015 by another 4%.
"Unfortunately, no sound growth stimulus is yet in view," says VDMA Managing Director Dr. Bernd Scherer. The fact that the decrease in 2015 was much less than originally expected, however, "gives reason to cautious optimism."
According to Scherer, the current development of incoming orders shows "that the export business is becoming more dynamic again, and at least partly compensates for poor domestic demand."
This particularly applies to tractors, where the decrease amounted to just over 2% in 2015. "In the domestic sector, we faced an almost double-digit decrease, whereas there was slight growth again on the international markets." Manufacturers of drillers, sowing machines and plant protection technology also achieved a slight increase by the end of the year because they benefited from replacement purchases. The results in self-propelled harvesting machines were very poor; the same applies to transport, milking and feeding equipment – these sectors were forced to cope with a double-digit percentage decrease.
Domestic demand amounts to 28% of the market, and therefore still plays an important role for the German agricultural machinery business. However, in 2015 sales in Germany fell by almost 6% below those of the previous year. On the other hand, with a drop of only 3%, export sales were much better.
France in particular – still the most important export market for agricultural machinery and tractors made in Germany – has "been experiencing an increase since late autumn, and is likely to move into growth again within the current year," Scherer points out. Also Ukraine, the focus of hopeful expectations for business with Eastern Europe, gives reason for cautious optimism. "Despite all the ongoing political and economic turmoil, this agricultural country is recovering slowly, step by step, as is evidenced by an increase of 15% in investment in agricultural machinery."
For 2016, the VDMA expects a production turnover for German agriculture machinery companies of about €7 billion, which corresponds to a further decrease of 5%. Scherer sums up that "the situation remains characterized by cautious optimism rather than distress." After all, "the fundamental conditions of the international agricultural machinery business" remains unchanged: "Reliable energy and food supplies cannot be achieved without us."
Africa Holds Strong Potential
According to a recent survey among 171 manufacturers of farm equipment conducted by the Agrievolution Alliance, Africa holds great market potential for agricultural machines. The country's growing demand for food, fueled by population growth, promotes the need for sustainable mechanization and enhanced agricultural productivity.
The survey results showed that 43% of manufacturers believe that currently Africa is a very important, if not essential economy for their business. When looking into the future for perspective sales of agricultural machines over the next 5 to 15 years, 73.6% of respondents considered Africa's market potential to be "great" and "very strong."
However, agricultural machinery manufacturers face several major structural challenges when conducting business in Africa, including an unreliable political and regulatory framework, poor functioning banking systems to create easy access to financing, and a lack of technology centers and demonstration farms to promote training and skills development (read more, 12168557).
The industry is seeking its opportunity, whether it be in exports or in a hopeful delayed uptick in equipment demand thanks to the Section 179. Emerging economies like Africa hold potential for increased interest in optimized and mechanized agricultural systems to meet their growing population's food and resource demands, but present structural and political hurdles for OEMs interested in expanding. At this point, many have dismissed 2016 as the year for agricultural stimulus and growth, and are looking ahead to 2017.