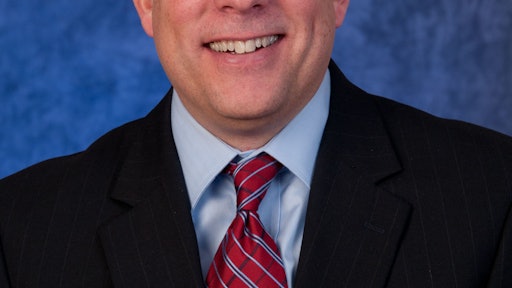 Responses from Alan Loux, Vice President of Global Marketing, JLG Industries
Challenges on the Horizon
What new challenges have arisen that affect the way your company designs or manufactures its products? How it does business? How it goes to market? How it differentiates itself from the competition?
Keeping people safe when working at height is our number one priority at JLG. As a result, safety remains a common thread as we develop innovative new product designs, manufacturing processes, and training programs.
A number of innovative technologies are already in place to improve the safe use of the machines, including pothole protection systems, analog envelope control, automatic outrigger leveling, fall arrest, enhanced protection against involuntary operation, load-sensing systems, and optional equipment, including a reverse sensing system and rearview camera with multipurpose display that shows integrated electronic load charts, diagnostics and analyzer functions. In addition, JLG recently took a leadership position by making the SkyGuard enhanced control panel protection system standard across the JLG portfolio of boom lifts. When activated, the revolutionary SkyGuard system stops all functions in use at the time, then temporarily reverses most functions that were in use when the system was activated. This reverse functionality is the only feature of its kind in the market.
As we focus on safety, our product designs and innovations are also influenced by the voice of our customers and end users. We continuously talk with our customers to identify ways to better meet their needs. From those ongoing conversations we have identified the importance of total cost of ownership (TCO) to our customers and taken steps to ensure we provide our customers with products that consider their business needs and help them reduce their operating costs. Our goal is to improve our machines and help keep our customers productive and profitable with products that deliver the performance customers demand at the lowest TCO.
As an example, we redesigned our telehandler line and 400S and 450AJ boom lifts. These products were carefully re-engineered with lower TCO in mind and now feature cost-saving upgrades that also improve operator comfort, serviceability, and confidence. We've also used customer input to improve our mid-sized boom lifts, offering more productivity through increased boom speeds and industry-leading capacity, improved serviceability through smart placement of service components and improved durability with new DuraTough hood material.
What new challenges do you see the industry as a whole facing, and how is your company looking to address/provide solutions with which to solve those challenges?
Changes in the regulatory environment and industry standards regularly challenge our industry to stay up-to-date on the latest industry requirements. For example, a proposed change to ANSI code A92.X will require certain work platforms to include load-sensing alarms and cutouts, which will ultimately affect safety and machine design.
We are regularly challenged to find new ways to make the workplace safer while continuing to introduce innovative products and services to the industry. Sometimes this means transferring existing technologies in other industries to our products and services—things like collision avoidance systems in automobiles and augmented reality in training simulators. It also means looking at more theoretical issues, such as the use of robotics and virtual reality to completely remove the operator from the machine, and seeing where we can apply these technologies to our products.
The industry faces two additional challenges: the strength of industry demand as both residential and nonresidential construction are forecast to grow in North America; and finding skilled workers to meet the demands of the construction industry. JLG is poised to meet all of these challenges by delivering safe, best-in-class equipment that offers superior productivity and lower TCO, augmented with best-in-class training and service.
Has the rate of technological advancement (such as the rapid emergence of data products) had any impact on business decisions, development, or product performance and client expectations?
JLG has leveraged new technologies across the board to improve the overall satisfaction of our customers. In addition to the standardization of the SkyGuard enhanced control patent protection system, we have introduced machines that feature more fuel-efficient engines due to fully variable/on demand engine RPMs, electronic rather than hydraulics to improve comfort and diagnostics, self-leveling capabilities, and AC drive motor technologies that improve overall efficiencies and lower the TCO for customers.
In addition, we recently introduced our customers to a rear-sensing (detection) system. The system is optional in our newly redesigned JLG telehandlers and an industry first, giving operators extra confidence when backing up their telehandlers.
JLG also offers the JLG Mobile Analyzer, a Wi-Fi-enabled diagnostics tool that gives technicians remote access to program, troubleshoot, calibrate, or customize JLG equipment performance.
We have also applied new technologies to other services, including training. When operators are well trained and fully understand how to operate a machine safely, they help protect themselves and others on the jobsite. At JLG, we use an equipment simulator that simulates operation of various machines in a virtual environment that recreates the JLG training center and proving grounds to scale. Remotely accessible to registered students with a laptop, the simulator provides both the operator's perspective and a side view. Using the simulator decreases the learning curve when operators first enter a lift or telehandler.
Looking ahead, things like augmented reality and head-mounted displays could give the operator access to a wealth of information regarding equipment operation, safety, or hazardous conditions, as well as a quick, easy-to-reference guide for typical job functions. Ultimately, technology needs to be feasible economically, so JLG will continue to look at technologies in other industries and borrow from them, taking advantage of economies of scale.
Companies in this article