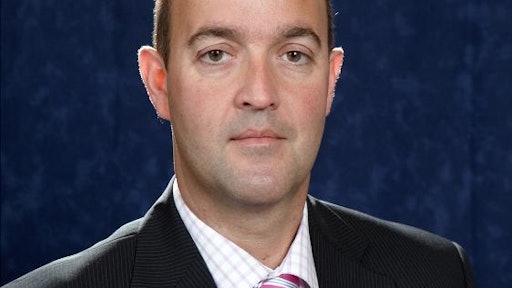 responses submitted by Phil Holwell, Senior Director of Engineering, JLG Industries Inc.
IoT & Connectivity
How is your company investing in IoT services and opportunities?
At JLG, we have invested significant resources in developing a complete IoT infrastructure to serve our customers. We are developing robust hardware, capable of withstanding the rigors of the construction environment, and have partnered with the world's leading satellite and industrial IoT provider, Orbcomm, to provide a wide range of connectivity solutions for our customers— large and small, around the globe.
In addition to the various connectivity solutions we can provide, JLG offers a web portal where customers can view dashboards of their equipment status, location, condition and business metrics, such as utilization. For our larger customers, and those with existing telematics solutions, we can provide application interfaces (APIs) that simply transfer data into the customer's system of choice.
Finally, JLG recognizes our customers' and their customers' environments are changing. Construction projects are increasingly using technology to improve productivity and safety on site. To this end, JLG is innovating unique digital tools that leverage our ability to integrate them into the very heart of the machine control system to provide insight, diagnostics and even remote control of the machine.
If you have already implemented some IoT opportunities, how has it affected your company? What are the long-term hopes or goals?
Through our existing deployments of solutions with customers, we are finding we can help them increase revenues by recognizing real utilization of their equipment and minimizing costs associated with returned equipment that needs to be turned around for rental as quickly as possible. Service costs can be reduced through up-to-date knowledge of equipment hours and locations, fault codes and alarms alerting customers to potential machine service requirements or abusive applications. Within JLG, we are benefiting from knowledge of equipment application data, helping us develop tools that improve fleet management and innovations that allow our customers to offer new services to end-users. Our goal is to enable JLG machines to take full advantage of the benefits of connectivity for fleet management, and on the connected sites of the present and future. Aside from the conventional telematics benefits, we believe a connected machine can help deliver a safer working environment and improve productivity on site. With OEM connectivity, customers can have the data they need for their business easily integrated with their other systems, and take full advantage of the unique features offered by leading manufacturers like JLG.
Do you see a path toward the use of AI, VR or AR in your manufacturing processes, or even on board the vehicle itself?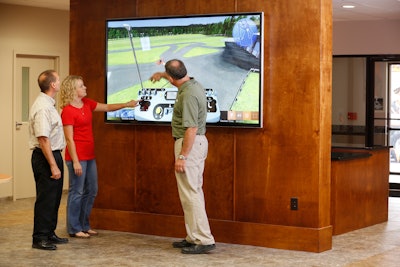 At JLG, we are already using VR in our operator training programs, providing excellent solutions to meet the training needs of customers. JLG also leads the field in the provision of BIM (building information modeling) data on our products, for integration into our customers' project designs and simulations. JLG is developing the use of AR to enhance the safety and productivity in equipment operation, and we are certain it will be used daily in the very near future.
How do you see connectivity and machine learning changing the vehicle landscape in the next decade?
We see connected sites evolving and multiplying rapidly. On these sites, there will be both man-to machine and machine-to-machine connections, ensuring operation is only allowed by trained and authorized operators. Machines and equipment can be quickly and easily located. Machines can be 'aware' of their location relative to site coordinates and other equipment, and utilization and productivity of equipment can be remotely monitored.
What concerns do you have with these technologies, their integration, and their means vs. ends, if any?
Our customers, and their customers, all operate within a mixed environment of equipment, people and systems. To truly deliver on the promise of increased safety, productivity and uptime, equipment connectivity needs to be as 'open' as possible and easy to integrate. Connectivity solutions will also need to be highly integrated with machine control systems and technology to achieve industrial levels of efficiency. When all is said and done, new technologies must deliver tangible savings through the value chain, beginning with the client for whom the project is being delivered. Naturally, the customer must be willing to implement the solutions to see the results.
Automation & Smart Systems
What smart systems or components does your company currently offer? If they are application or industry specific, include that detail in the explanation.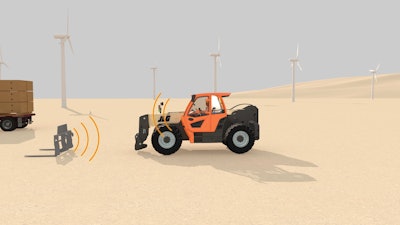 JLG Ultra Boom® lifts offer unparalleled access options, which are enabled through 'envelope control' systems that electronically manage the stability of the machine and allow lifts such as the JLG 1850SJ to reach jobs at 185 ft. (56.4 m). JLG high-capacity telehandlers include the JLG SmartLoad system, which features automatic attachment recognition, load stability indication and a load management indicator system. These features allow the machine to recognize a specific attachment, while displaying both machine stability and offering a dynamic chart of where the load can be placed safely.
JLG also offers a number of smart systems, including the proprietary SkyGuard® system that comes standard on all boom lifts. If an operator comes into contact with the SkyGuard bar as he/she moves toward an obstruction, the system emits an audible alarm. When activated by approximately 50 lbs. (23 kg) of force, SkyGuard stops all functions in use at the time, then it temporarily reverses most functions that were in use at the time of activation for less than a second.
The reverse functionality of SkyGuard is the only feature of its kind in the market, and it's available exclusively from JLG.
Companies in this article