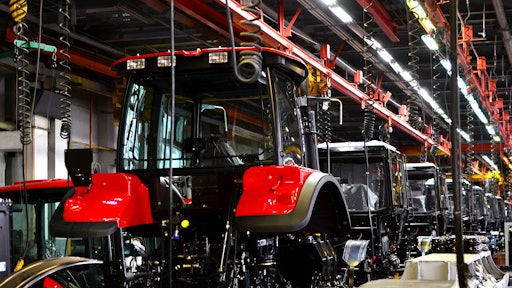 ©MaxSafaniuk – stock.adobe.com
The second quarter of 2021 (Q2 2021) showed continued positivity in the heavy-duty on- and off-highway mobile equipment markets. Customer demand remained strong throughout much of the quarter as the world continues to get back into a more normal pace of life and infrastructure investments, as well as good commodity prices help the construction and agricultural equipment markets.
Freight growth continued to drive truck demand in the U.S. in particular with fleets looking to get whatever new trucks they could. Commercial vehicle demand is expected to remain high in all regions of the world into 2022, except for China, reports Power Systems Research in its Q2 Truck Production Index.
Supply chain constraints are still an issue for many manufacturers, and are expected to continue well into 2022 for some components and materials, such as semiconductors.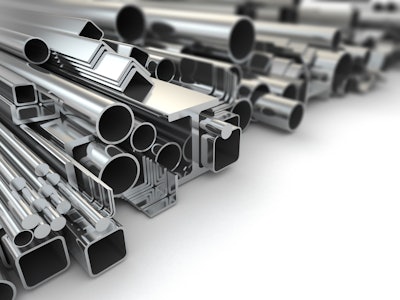 In general, global economic activity was positive in the second quarter and is expected to remain so, which will benefit the heavy vehicle and equipment markets. Data and analytics firm GlobalData recently revised its global economic growth forecast for 2021; it is now forecasting the global GDP growth rate to be in the range of 6.14%, up from the 4.87% it originally predicted in February.
Growth of 6.26% is expected in emerging and developing countries, due in part to increased economic investments in China and India. However, in other developing regions growth could be hindered by vaccination delays and removing fiscal support from the economy too early. GlobalData says advanced economies are expected to see 5.15% growth in 2021 as demand from domestic and export markets continues to grow.
Europe is forecast to lead economic recovery among the advanced economies. The UK will grow 6.77%, France 5.84% and Germany 3.46%. GlobalData projects the U.S. will grow 6.4%, its fastest rate in two decades. Japan has been revised to a downward rate because of lockdowns caused by increased COVID-19 infection rates in the country which is hindering business.
And while India is also dealing with an outbreak, its growth rate is still expected to reach 9.4%. China follows closely behind it at 8.61%. Turkey, Philippines, Indonesia and Malaysia are all forecast to grow over 5% in 2021.
Despite these predictions for economic growth, GlobalData does note rising inequality, crippled health sectors and rising inflation rates paired with high debt levels could pose challenges to global recovery.
Off-highway equipment demand grows
The second quarter proved to be positive once again for many manufacturers in the off-highway equipment industries. Volvo Group reports a net sales increase of 43% during the quarter (adjusted for currency and the divestment of UD Trucks). The company says in its press release announcing its Q2 results that it continued to experience good demand for its products and services. It also notes shortages of semiconductors and other production materials did pose challenges and production stoppages; but despite these, the company experienced a healthy quarter.
Its Volvo Construction Equipment (Volvo CE) brand also experienced a positive quarter. Net sales increased 13% due to higher volumes in Europe, North America and South America. The company says improved construction activity, high customer confidence and increased funding for infrastructure projects helped order intake rise 35% during the quarter.
Asia, including China—the world's largest construction equipment market—remained the highest market driver for the company despite a 12% drop in the region due to declining infrastructure investments. However, Asia excluding China was strong with improvements in all key markets, the company reports.
Volvo CE says demand for large and medium sized machines remained high and outpaced demand for compact machines.
High customer activity through May across industry segments benefited Q2 results, says Volvo CE. In Europe, a 30% increase in unit volumes was achieved as most countries continued to recover economically. North America saw growth of 35% due to a high level of infrastructure and housing construction activity, the company says. And South America provided the largest increase at 71% as demand for commodities rose.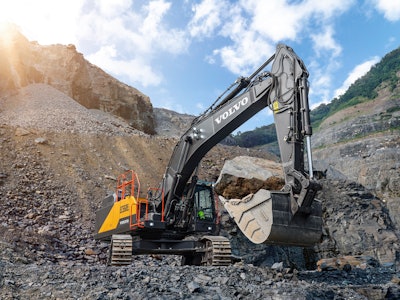 Construction activity around the world is expected to continue driving demand for construction and mining equipment. According to a recent report from GlobalData, construction activity in Western Europe is expected to grow 5.7% in 2021. Many regional governments have provided financial aid to help economic recovery efforts which is expected to help drive spending in construction sectors such as residential and infrastructure.
The most recent CECE Business Barometer shows the current boom in the European construction equipment industry is keeping the association's business climate index at a high level, indicating manufacturers' confidence in the market. There remains strong demand for equipment, but supply chain constraints are causing challenges for manufacturers. Many say they are looking to increase capacities; 50% of surveyed companies they plan to expand their workforce. The Committee for European Construction Equipment (CECE) says there is currently no market where manufacturers are expecting declines.
While negotiations for an infrastructure bill are ongoing in the U.S., the prospects for the passage of one have provided some market confidence and there has still been heightened activity in this area since late 2020 despite the lack of a large, national bill.
Mark Killion, CFA, Director of U.S. Industry Services at Oxford Economics, said during a quarterly economic webinar hosted by the Association of Equipment Manufacturers (AEM) in April that if an infrastructure spending bill were to be passed it would have a strong impact on the construction sector. Construction sector growth would likely double over Oxford Economics' 2022-2023 baseline forecast and provide growth over the long term. He said GDP would be expected to grow 4.3% in 2022 and 2.0% in 2023, with the level of GDP up 1.7% by the end of 2023.
Housing has been the largest area of growth for the construction sector. Residential building in particular remains strong and is expected to be into next year as well. Though it will vary state by state, in general Killion said residential construction spending will continue to outpace non-residential construction.
He said overall construction machinery is expected to benefit from strong demand with growth anticipated through 2024 in the U.S.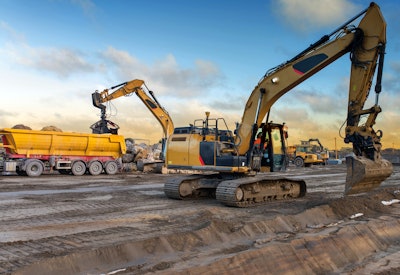 Agricultural equipment market
Demand has also been strong in the agricultural equipment market for much of 2021. AEM recently reported U.S. tractor sales declined in June which was only the second negative result in a year. Tractors below 40 hp (29.8 kW) fell 18.4%, leading the overall decline in sales for the month. The mid-size segment, 41-100 hp (30.6-74.6 kW), also dropped slightly, but all other segments as well as combine sales were up during the month.
Available inventories are what AEM says may have lead to the decline in sales in June. U.S. farm tractor inventory is 41/3% below the same month in 2020. The association says that in general, sales for larger equipment remain strong which indicates positive farmer sentiment. Good commodity markets continue to benefit the industry, and are expected to for the foreseeable future.
Chloe Parkins, Senior Economist at Oxford Economics, said during AEM's April economic webinar that farm income has increased rapidly which has enabled farmers to spend money on new machinery. Demand for food will continue to be strong, and is expected to increase as restaurants in the U.S. and around the world begin returning to more normal service. Double-digit growth is expected in 2021, she said during the webinar.
However, like many industries, the costs of raw materials could pose an issue both for the farmers and the equipment manufacturers.
The European Agricultural Machinery association CEMA has reported the rising cost of material prices is impacting the agricultural equipment machinery industry. Prices for many materials have greatly increased, leading to higher production costs for manufacturers which in many cases are being reflected in higher customer costs, as well.
Steel prices, for instance, have more than doubled in 1 year, going from 550 euros per ton to 1,250 euros per ton says CEMA. This material can represent as much as 30-40% of the average production costs for manufacturers, depending on the type of equipment. Prices for other metals have also risen, as well as that of products derived from petroleum, such as ST plastic whose price CEMA says has increased 70% in 6 months.
| | | | |
| --- | --- | --- | --- |
| Materials | Sept. 2020 Base Price Value | June 2021 Price Value | 9-Month Trend |
| Foundry Products | 100 | 192 | +90% |
| Aluminum | $2022/ton | $2478/ton | +22% |
| Copper | $6035/ton | $9852/ton | +63% |
| Platinum | $870/ounce | $1187/ounce | +36% |
| Natural Rubber | $1.43/kg | $2.4/kg | +67% |
| Crude Oil WTI | $70/bbl | $70/bbl | n/a |
The above chart from CEMA is sourced from Statista.com (The prices indicated above are those of their quotation on the stock exchanges. Depending on a company's supply contracts, it may temporarily pay a different price.)
CEMA says it is hopeful lifting of trade restrictions on steel and aluminum imports into the European Union will help to limit further price increases.
Added to the higher material costs is the global shortage of semiconductors and other electronic components due to their widespread use in several other applications and manufacturers being unable to keep up with current demand. Freight costs are also posing challenges for manufacturers, CEMA notes.
CEMA's Business Barometer released in June shows that equipment demand is strong, but these material and supply constraints are weighing on manufacturers. Respondents to its business barometer survey shows weakened expectations for further order intake growth for the first time in 2021 because of these challenges. Despite this, the association says most companies' full-year 2021 forecasts remain positive across all agricultural equipment segments. A majority of survey participants still expect increases in turnover for the remainder of the year.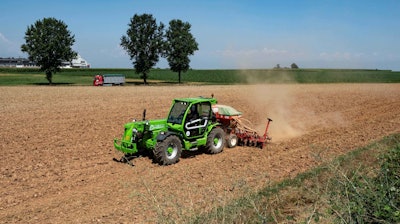 The Italian agricultural equipment association FederUnacoma has released its latest figures which show a 52% increase in tractor registrations in Italy during the first 6 months of 2021. Other agricultural equipment also saw growth during the first half of the year. Strong sales increases to customers in North America, India and Turkey aided the Italian agricultural equipment market.
Over 12,500 tractors have been sold thus far, while combine harvester sales rose 64% with a total of 229 units sold. Telehandlers showed an 85% increase with 775 machines sold, reports FederUnacoma. Market recovery after the COVID-19 lockdowns in Italy, as well as tax incentives from the government and a push toward the use of more advanced equipment helped drive market growth.
International markets also strong demand between January and May:
United States - 26%
Canada - 51%
Turkey - 81%
India - 67%
Germany - 15%
Spain - 42%
UK - 21%
France - 26% (for first 5 months of 2021)
FederUnacoma says this global growth trend is expected to continue in the second half of the year, and into the coming years. It forecasts trade for the sector will increase 7.3% between 2021 and 2024.
Listen to our podcast interview with CLAAS' Eric Raby to get an OEM's perspective on the ag machinery outlook for 2021.