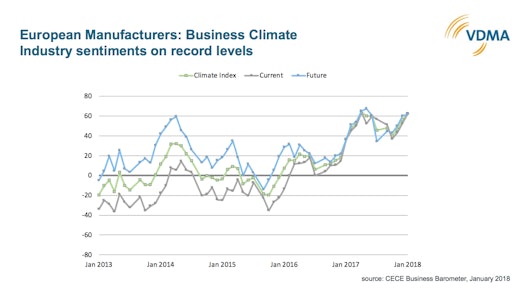 VDMA
Since the middle of 2017, the global outlook of the construction equipment market has been firmly planted in steady, continued growth for the coming years. At that time, Timetric, a global provider of online market data and analysis, cited an average annual growth over the course of the coming 5 years of 2.8% according to its Global Construction Outlook 2021 report from Timetric's Construction Intelligence Center. The global construction market was set to reach $10.1 by 2021.
More recently, Research and Markets reported a similar outlook in its report, Growth Opportunities in the Global Construction Industry. It proposes, "The future of the global construction industry looks good with opportunities in residential, non-residential, and infrastructure. The global construction industry is expected to reach an estimated $10.5 trillion by 2023, and it is forecast to grow at a CAGR of 4.2% from 2018-2023. The major drivers for the growth of this market are increasing housing starts and rising infrastructure due to increasing urbanization and growing population."
It further notes that residential construction is expected to remain the largest segment of the global market as financing for projects becomes available and interest rates lower, for example. The Asia-Pacific will continue to be the largest region, mainly due to increasing urbanization and higher investment in infrastructure development (learn more, 20987705). A report from Grand View Research, specific to the heavy construction equipment segment, substantiates this expectation with examples like China's continued interest in transportation infrastructure investment.
"The Chinese government has planned to upgrade the country's transportation infrastructure through projects such as the national high-speed railway and the 7918 Network (also known as the National Trunk Highway System). As a result, rail infrastructure is expected to be the fastest growing sector in the country. China has a very distinct market comprising various regions, each with its own economic growth trajectory and climate change. Northwest China is expected to grow at the fastest rate due to the government's 'Western Development Strategy' initiative, which is likely to result in sizeable infrastructure spending," states the report.
Grand View Research claims that the infrastructure development to be seen around the world, as Research and Markets referenced, will cause the global heavy equipment market to grow at an annual rate of 5.4% until 2025, reaching a total value of $90.4 billion.
"Private financing is a key way to fund infrastructural development plans," states Grand View Research's recent report for the heavy construction equipment market. "For instance, infrastructure development in India has witnessed increased participation of private players in recent years. Moreover, the Indian government has increased its budget for infrastructural development.
"[The] heavy construction equipment market is likely to witness high demand due to various government initiatives to expand airports globally. As of January 2015, global investments for construction of airports was nearly $540.0 billion. For instance, news reports suggest that the total number of passengers traveling via Mumbai (India) airport has tripled in the last decade. To overcome this, the Indian government has approved an investment of $2 billion for the construction of the Navi Mumbai airport, which will help distribute domestic and international passengers. Development plans such as these are sure to give the global market a major boost," (read more, 20988816).
The Grand View Research report notes that the U.S. sector has seen sluggish demand over the past several years, however it saw steady growth in 2017 due to high demand from the residential segment. Earthmoving machinery is likely to dominate the heavy construction equipment market through 2025, with demand largely in developing countries like India, Malaysia and Indonesia with large investments in transportation infrastructure development. Road construction projects will be a key driver for growth in demand for concrete and road construction equipment, a smaller but significant portion of heavy construction equipment.
Global OEMs like Caterpillar, Komatsu, and Volvo dominate the market in terms of technology, experience, and quality. In response, local vendors are forming joint ventures with international players to move up the value chain by acquiring various technologies. To read more about the mounting industry consolidation and what it means for the heavy-duty equipment industry, read The Pros and Cons of Industry Consolidation.
A closer look at EMEA
Produced in conjunction with Business France, INTERMAT 2018 (learn more, 10283874) unveiled its first construction Observatory, which provides construction equipment manufacturers with research on 12 countries in the EMEA (Europe, Middle East and Africa) region selected specifically for their planned investment in infrastructure and building development.
The report analyzed each country's domestic investment plans for 2025-2030 to provide an overview of major projects that will drive heavy construction equipment investment for both imports and local brands. The findings of the report saw six key European countries (Belgium, France, Germany, Italy, the Netherlands, and the United Kingdom) planned to invest 925 billion euros for projects through 2030, and some until 2050.
Four African countries (Algeria, Morocco, the Ivory Coast and Kenya) have a planned 307.2 billion euros of investment planned; and in the Middle East, the United Arab Emirates and Qatar plan to invest 239.3 billion euros through 2033. Read more and download the full INTERMAT Construction Observatory report at oemoffhighway.com/20986674.
The dominant country in Europe for construction equipment and infrastructure development is of no surprise, Germany. In the INTERMAT Construction Observatory, Germany was the top European investor with 287 billion euros through 2030. According to the VDMA (Verband Deutscher Maschinen- und Anlagenbau; Mechanical Engineering Industry Association), the German construction equipment industry is in the middle of a boom, (learn more, 20992529).
Ending 2017 with a 15% gain in equipment turnover compared to 2016, it is Germany's fourth consecutive year of growth. By the end of the year, the VDMA shows that incoming orders were 19% higher than the beginning of the year, prompting the conclusion that 2018 would continue to be a strong year of growth with a predicted 8% increase in turnover.
"We have not felt this kind of unanimous, great optimism for many years," comments Joachim Strobel, Managing Director of Liebherr-EMtec GmbH and Industry Spokesman of the German construction equipment manufacturers of VDMA.
"We are benefiting from simultaneous high demand around the globe," adds Franz-Josef Paus, Chairman of the Construction Equipment and Plant Engineering Association of VDMA and Managing Partner of Hermann Paus Maschinenfabrik GmbH. "The boom will carry us into 2019."
According to Unacea, the Italian equipment association, Italy too saw strong growth over 2016 with a 15% increase in earthmoving machinery sales. "At this point, the recovery of the Italian market has to be considered as a consolidate trend," says Paolo Venturi, President of Unacea.
In 2017, Italy witnessed a 15% increase in its earthmoving machinery sales, as well as a significant boost in international trade, exporting 7% more overall construction equipment than 2016, a large portion of which was road equipment at 26% year-over-year growth.
The French earthmoving equipment market, the third largest in Europe, had its best year in 2017 since the market crash in 2008 according to Cisma, the French equipment manufacturers' association. Equipment sales for 2017 were driven by crawler excavators with 22% growth, including mini excavators which were the most popular product type reflecting a strong housing market.
Cisma also predicts in 2018 France's building market will remain strong, ensuring continued demand for equipment. The association concludes that all of France's economic indicators are positive and give the country's equipment market the potential to hit pre-recession levels of sales.
Overall it seems that there is little downside to the heavy construction equipment market no matter the region. Continued investment in infrastructure development will propel equipment sales upward for the next several years, and major projects will keep demand somewhat predictable for OEMs.