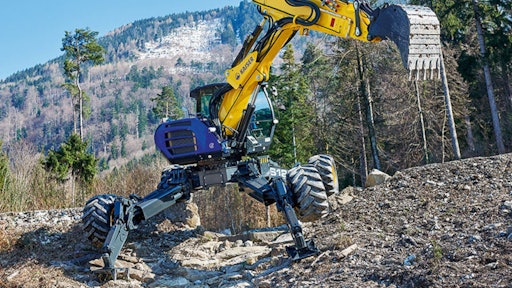 Kaiser
Often referred to as "spiders" in the heavy-duty vehicle market, mobile walking excavators get their name from the hydraulic "arms" extending from the vehicle's chassis awarding stability in the most difficult environments from mountains to swamps.
Kaiser, a Liechtenstein-based manufacturer of mobile walking excavators, showcased upgraded versions of its S10 and S12 spiders at bauma 2019. Having worked with Perkins Engines for nearly 30 years, Kaiser approached Perkins for a "future-proof" engine system for its latest spider iterations, landing on the EU Stage V Perkins 1204J engine. The 4-cylinder engine option from Perkins' 1200 Series features a series turbocharged aftercooler and offers 200 hp (150 kW) max power.
Markus Kaiser, CEO, explains that in such a niche application with the custom mobile walking excavator product type, "the customer is looking for the highest level of performance. [Perkins gives us] the best fit of the highest efficiency combined with a very high level of performance."
Learn more about Perkins' work with Kaiser's mobile walking excavators, as well as other OEMs at oem.oh/Perkins-Kaiser.
Companies in this article