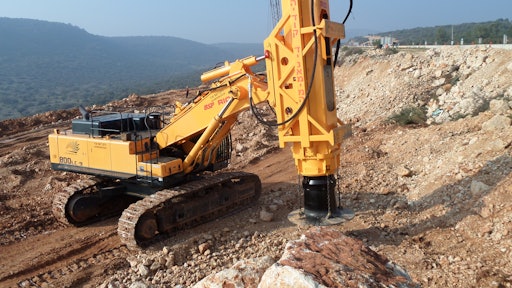 BSP International Foundations (BSP), one of the world's leading manufacturers of hydraulic piling hammers, ground improvement attachments and related equipment, will be exhibiting several of its products on Booth S5 171 at CONEXPO being held at the Las Vegas Convention Center, Nevada, USA from March 7-11, 2017.
The UK company, based near Ipswich in England, is using the exhibition to announce the launch of its DX-RT range of impact hydraulic piling hammers to the North American market. The three-model range has been developed for contractors working on railroad infrastructure and civil engineering projects. 
BSP has specifically designed the compact and versatile DX-RT piling hammers to drive steel piles to support electrification stanchions, gantries and other railway projects requiring foundation piling. The range consists of the DX-20 RT, the DX-25 RT and the DX-30 RT which offer drop weights of 1.5 t, 2 t and 3 t respectively. A DX-25 RT model will be on display at CONEXPO.
Maximum impact energy is 20 kNm, 25 kNm and 30 kNm respectively while blow rate at rated energy is 80 blows per minute. Weights extend from 9,590 lbss (4,350 kg) to 12,676 lbs. (5,750 kg) which includes a drive plate adapter for a 24 in. (610 mm) rail track pile plus excavator pick-up plate and crowd/tilt device.    
All the hammers have been designed as an attachment for mounting on road and rail hydraulic excavators with an operating weight of over 30 t and a minimum hydraulic oil flow of 30 gal. (140 L) per minute. When mounted to the host machine's bucket linkage, the hammer can be quickly erected from a horizontal transport position to a vertical of five degrees which allows it to cope with the cant of rail lines. 
Although designed for railroad projects, the DX-RT hammers can be adapted for use on civil engineering contracts to drive sheet piles, concrete piles, timber piles, small bearing piles or tubular steel piles with ultimate load bearing up to 1,800 kN depending on site conditions. They can be operated directly from a suitable hydraulic excavator base or hydraulic crane.
The hammers have enjoyed considerable success since BSP introduced them in the UK for work on the nation's rail system and major city metro lines. A steadily growing number of railroad contractors and civil engineering companies have recognised their versatility and the benefits of their compact dimensions as well as the ability to be mounted to a hydraulic excavator with the operator having total control of the hammer stroke and blow rate.      
All BSP hammers have full product support from Jinnings Equipment, the company's distributor in the USA, based at Fort Wayne, IN. 
Rapid Impact Compactors (RIC)
In addition to its impressive range of piling hammers offering dropweights from 1.5-40 t, BSP manufactures a range of Rapid Impact Compactors (RIC), which have become the preferred method for an increasing number of shallow ground improvement projects around the world.
The recently introduced RIC-16000 model joins an established four-model range offering dropweights from 5-16 t. Depending on prevailing ground conditions this model is capable of significant ground consolidation to depths of more than 8 m. 
Specifications of the new compactor include a dropweight mass of 16 t, impact energy of 240 kNm and typical blow rates of 35-40 bpm at maximum stroke. It is suitable for mounting to hydraulic excavators with operating weights between 75 and 92 t and can be mobilized in minutes after arriving on site.
BSP says its RIC method of compaction has been proven to be a major advance in filling the gap between various rolling techniques, which only treat shallow depths, and Dynamic Compaction (DC) proper which often treats soils in the 10-15 m depth range. In many cases the 'rapid' nature of the RIC technique means it improves the ground to a greater degree than expected and encroaches into territory previously done by DC.