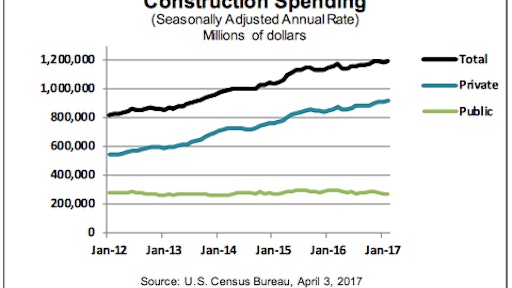 According to the Commerce Department, construction spending increased in February after 2 months of decline; for the month it reached its highest point since April 2006.
Spending for the month totaled $1,192.8 billion, a 0.8% increase over January and 3.0% increase over February 2016. Total spending for the first 2 months of the year reached $163.3 billion which was 3.0% higher than the same period last year.
Private construction building was 0.8% above January while residential construction in February was 1.8% above the previous month's. Nonresidential construction, however, was 0.3% below the revised January estimate.
Public construction spending was 0.6% above January and educational construction was 0.5% higher. Highway construction was reportedly 1.3% higher in February.