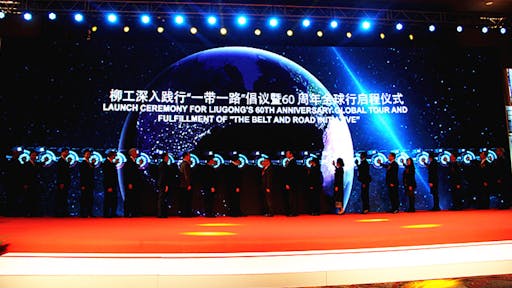 LiuGong has celebrated the launch of its 60th Anniversary Global Tour and Fulfillment of "The Belt and Road Initiative" Strategy at its 2017 Global Dealer Conference. Attendees included those from the government, business associations, LiuGong dealers from China and around the world, financial institutions and media.
Next year (2018) is the 60th Anniversary of LiuGong. During its history, LiuGong has experienced the boom times in the industry and also witnessed the most difficult periods and weathered the industry downturns. With its smart thinking and long-term strategic goals, LiuGong has evolved from a Chinese wheel loader manufacturer to an international company with 15 best-in-class product lines, providing comprehensive equipment and total solutions throughout machines' life cycles. LiuGong has written a story of passion and drive, striving to become a world leading CE manufacturer. As luck would have it, the Chinese initiative of "the Belt and Road" has brought a new impetus to its grand vision. LiuGong's 60th Anniversary global tour will start from China and make its way around the global stopping in each overseas subsidiary to celebrate its 60th Anniversary and further implement "the Belt and Road" initiatives.
As a pioneer of globalization in the industry, LiuGong has coordinated a layout relating to the "B&R" countries. LiuGong has set up business network in 58 of the 65 countries involved, and there are five overseas subsidiaries including two manufacturing facilities in India and Poland to support dealers and customers.
In 2007, LiuGong built its first overseas manufacturing plant and R&D center in India, which now has become a well-known brand in India. In 2012, by acquiring the civil engineering machinery division of the Huta Stalowa Wola and the Dressta brand in Poland, LiuGong enhanced its dealer network and established a perfect base at the start of the Silk Road Economic Belt construction. Just in September, LiuGong opened its new European HQ and R&D Center in Warsaw, Poland and announced increased manufacturing capabilities for Dressta dozers and pipe-layers as well as LiuGong Tier 4 Final wheel loaders and excavators in LiuGong Dressta Machinery (LDM). Additionally, LiuGong relocated its European Parts Distribution Center to LDM and improved parts' turnaround for both brands, making sure that LiuGong & Dressta customers can enjoy fast and convenient service right from the heart of Eurasia to ensure their machines maintain peak performance.
The Silk Road and Maritime Silk Road cover a vast territory of geographical diversity, such as plateaus, deserts and frozen earth. On top of this, the environments are made more demanding due to extremely hot summers and freezing winters, which inevitably result in difficulties in the construction of infrastructure and place high demands on the construction equipment used. As the world's leading manufacturer of a full line of extreme duty, intuitive machines, LiuGong can provide total solutions for infrastructure projects. Basic earthwork, road or railway projects, airport construction, tunnels and bridges work, and other tasks relating to transportation infrastructure – no matter the challenges of construction or maintenance, customers can always depend on LiuGong machines. Other than that, LiuGong's intuitive machines can be reliably operated anywhere and are smartly designed to allow for maintenance in the most isolated locations – making them perfect for meeting the demands of "the Belt and Road" construction. The statement has been proved in several B&R projects including the 3rd Bridge and national power plant project in Turkey, Ashdod Port and Tel Aviv light rail construction in Israel, China-Laos railway construction, PMK expressway in Pakistan and China-Myanmar gas pipeline project.
Speaking of the experience in LiuGong's expansion, especially along the "B&R" regions where the culture and politics are complicated, "acting local" is the key to success. LiuGong has long held a strong culture of localization, openness and inclusiveness. By hiring local talent and participating in local activities, LiuGong has worked to integrate different cultures and made itself a true localized company. And as a result, LiuGong has been honored with Top Chinese Investor and Polish Solid Employer in Poland, China-India Friendship Association in India and Distinguished Award of the Year 2014 in the Building Environment Industry in Singapore.
With 63% of the world's population and 29% of world's GDP of $23 trillion, the Belt and Road market promises a splendid prospection to all companies. LiuGong, with its full line of tough machines and the implementation of "total globalization, total solution and total intelligent" strategy, is committed to the Belt and Road countries and their needs.