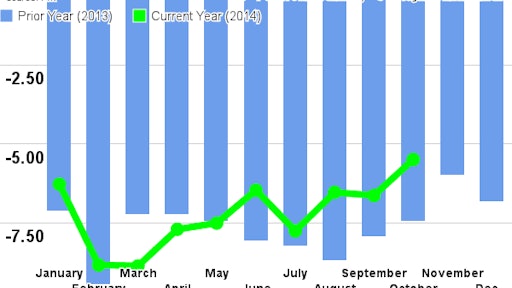 FTR's Shippers Conditions Index (SCI) for October, at a reading of -5.5, reflects a modest, temporary improvement in capacity conditions. While the capacity conditions have moved out of the critical danger zone of a few months ago, the trucking segment remains highly vulnerable to seasonal shortages. FTR expects the SCI to deteriorate over the next several months especially in light of noticeable increases in costs at carriers, with the exception of fuel, and increased transaction expenses as shippers search harder for capacity to haul their goods.

Jonathan Starks, FTR's Director of Transportation Analysis, comments, "Of the four key segments that represent the Shippers Conditions Index, fuel is currently the only item with a positive contribution in October. Tight capacity, and the corresponding rate increases, remain the biggest challenge for shippers. While truck utilization has eased from the level seen last winter, it still remains historically high. Likewise, contract rates continue to steadily move higher and spot rates are quite elevated - up 20% y/y in late November. Despite fuel prices continuing to drop, the cheer from shippers may be short-lived. As the economy looks likely to accelerate in 2015 it could cause capacity to tighten once more, leading to further acceleration in base freight rates. The recent inclusion of Hours-of-Service (HOS) changes in the Congressional budget bill is a modest positive for the industry but would not be enough to offset the demand from a strong economy."

The Shippers Conditions Index is a compilation of factors affecting the shippers transport environment. Any reading below zero indicates a less-than-ideal environment for shippers. Readings below 10 signal that conditions for shippers are approaching critical levels, based on available capacity and expected rates.