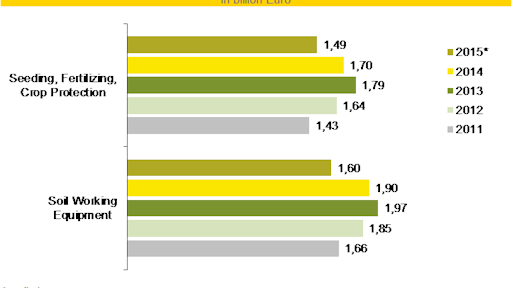 European sales of soil working, sowing, fertilizing and plant protection equipment are experiencing a double-digit fall. According to preliminary estimates, the overall market for arable farm machines in the EU fell by around 14% to EUR 3.09 billion in 2015. For 2016, industry experts expect a further decline by around 11%.
Europe's leading manufacturers met on March 8 and 9 at the German company Horsch in Schwandorf to discuss current market trends and expectations for the future. According to Philip Nonnenmacher, Coordinator of the respective CEMA Product Groups, "low commodity prices and the comparatively low income of farmers that comes with them are the principle reasons for falling demand. This being said, it should be noted that the drop in demand follows a peak in sales in 2013, which means that the current sales levels are within the average of the past 8 years."
In 2015, the fall in demand for sprayers, fertilizer spreaders and seed drills was somewhat less pronounced (-12%) than the one observed for soil working equipment (-16%). This trend is expected to invert in 2016: with the market for soil working equipment levelling out at the bottom, only a slight further decrease of around 4% is expected, while demand for sprayers, fertilizer spreaders and seed drills is likely to drop further by around -19%.
During the meeting, elections for the Chairmen of the Product Groups took place. Mattias Hovnert (Väderstad AB, Sweden) became the new Chairman of the Product Group for Soil Working Equipment. Christoph von Starck (Horsch Maschinen GmbH, Germany) was elected Chairmen of the Product Group for Plant Protection Equipment. Massimo Bergo (Maschio Gaspardo S.p.a., Italy) will continue to chair the Product Group for Seed Drills and Fertilizer Spreaders for a second term.
Due to statutory reasons, Rolf Schneider (Kuhn S.A., France) and Dirk Hollinderbäumer (Lemken GmbH & Co. KG, Germany) could no longer serve as Chairmen of the groups. Dr. Ulrich Adam, Secretary General of CEMA, thanked Schneider and Hollinderbäumer for their support and positive impact as Chairmen to the CEMA Product Groups over the last four years.
The CEMA Product Groups are alliances of the leading European manufacturers of arable equipment implements as well as tractors and combine harvesters. The main focus is placed on the joint assessment of the market based on dedicated statistics. Currently, 20 companies from nine European countries are members of the CEMA Product Groups in the field of arable equipment implements. Prerequisite for participation is the membership in a national industry association, which belongs to the European umbrella association CEMA.