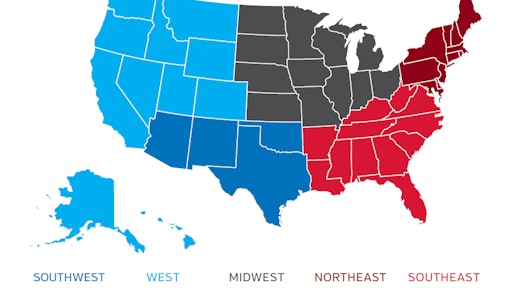 A new study released by the Motor & Equipment Manufacturers Association (MEMA) shows that motor vehicle parts manufacturing jobs in the U.S. have risen nearly 19% since 2012.
More than 871,000 Americans are directly employed by the motor vehicle parts manufacturing industry. This number, which is up from 734,000 in 2012, represents 2.9% of the jobs in the total U.S. employment market and 2.4% of the U.S. gross domestic product (GDP).
Together with indirect and employment-induced jobs, the total employment impact of the motor vehicle parts manufacturing industry is 4.26 million jobs, an increase of nearly 18% from 3.26 million in 2012.
The Heavy Duty Manufacturers Association (HDMA) is the commercial vehicle and off-highway division of MEMA and represents the manufacturers of original equipment and aftermarket parts, and technologies that help create and to maintain in-service vehicles.
In HDMA member markets representing original equipment and aftermarket for both the on- and off-highway heavy-duty (HD) commercial vehicle supplier industry, 203,000 direct U.S. jobs have been added since 2015, an 18.7% increase since 2012.
The vast majority of goods in the United States are transported on highways by HD commercial vehicles; U.S. truck freight is nearly a $800b market. The nation relies on school and transit buses, emergency vehicles, agricultural and other off-road vehicles to support our economy, maintain our infrastructure, and increase our quality of life.
"The commercial vehicle and off-highway component manufacturers help to create the vehicle safety and fuel efficient technologies that are the leading edge in our industry," says HDMA President and COO Tim Kraus. "HDMA members represent a very large percentage of the U.S. supply base for the industry, and are largely responsible for driving the increase in this sector's jobs since 2015."
"Never before has the Mobility Industry had to embrace so many advances in vehicle technology so quickly and on a global scale. These numbers show that MEMA and its member companies are driving innovation, jobs, and economic growth in the U.S. by combining manufacturing and technology," says MEMA President and CEO Steve Handschuh during a media event at the Washington Auto Show. "The Mobility Industry is a significant contributor to the growth of the manufacturing and high-tech sectors. And MEMA is pulling it all together."
In addition, the motor vehicle parts manufacturing industry contributes $270 billion in total employee compensation, which is up 22% from $221 billion in 2012. Overall, the report shows that the economic contribution to the U.S. GDP generated by the motor vehicle parts manufacturing industry and its supported activity tops $435 billion.
Read the full report, including state-by-state employment numbers, as well as the study and methodology which was conducted by London-based IHS Markit.