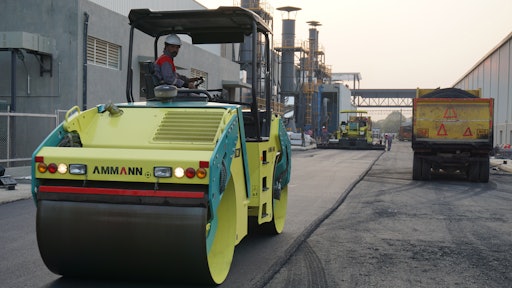 Ammann
Fact.MR reports demand for pneumatic rollers is projected to expand at a CAGR of 4.7% from 2018-2028. Sales volume is expected to surpass 10,500 units in this timeframe. Increased construction of infrastructure due to growing urbanization is among the key drivers for the market growth.
The report from Fact.MR says technological advancements for these machines will help drive growth, as well.
Sales of pneumatic rollers with engine capacity of 100-130 hp will rise at a steady pace, and account for the majority share of the market. This machine size is increasing in use and tends to be reasonably priced, aiding its market growth in the coming years.
Pneumatic rollers over 130 hp are expected to expand at a higher rate because of their sturdiness and high power capabilities which benefit heavy-duty applications.
Adoption of pneumatic rollers with an operating capacity in the range of 8,000-12,000 kg are expected to increase due to their high efficiency and improved area of contact, says the report. Their maximized road density will also further aid the increase in demand for these machines. Increasing heavy road construction projects, such as China's Super Highway project, continue to influence demand for pneumatic rollers with more than 18,000 kg operating capacity, says Fact.MR's report.
Demand for pneumatic rollers with drum width up to 1,800 mm is projected to expand at a higher pace during the period of forecast, closely followed by pneumatic rollers with drum widths ranging from 1,800-2,000 mm. However, the report foresees that sales of pneumatic rollers with drum width ranging from 2,000-2,200 mm are likely to remain dominant throughout the assessment period, with sales volume crossing units 3,500 units by the end of the forecast period.
Sales of pneumatic rollers are likely to remain concentrated in the emerging economies of Asia Pacific excluding Japan (APEJ), particularly Greater China and India. Major road construction projects including heavy constructions such as India's Highway Super System (Mega project) are likely to remain influential in driving sales of pneumatic rollers. The demand for pneumatic rollers in Greater China are expected to grow at a significant pace, likely to translate into sales of over 1,700 units of pneumatic rollers by end of assessment period. Manufacturers of pneumatic rollers can expect a cohort of opportunities from emerging economies of the APEJ, with a positive outlook in the coming years.