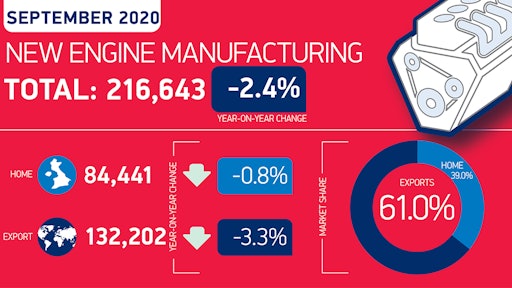 Society of Motor Manufacturers and Traders (SMMT)
The Society of Motor Manufacturers and Traders (SMMT) reports overall commercial vehicle output in the U.K. grew 3.3% in September 2020, aided by a rise in van production. However, engine production in the region was down once again during the month.
Engine production weakest since September 2014
SMMT reports 216,643 engines were built in the U.K. during September, a decline of 2.4% from 2019 and the worst September production level since 20141. Engine production for domestic and overseas markets fell 0.8% and 3.3% respectively. SMMT says year-to-date output is down 31.4% and is the market is heading for a challenging fourth quarter.
Mike Hawes, SMMT Chief Executive, says, "With a second wave of coronavirus sweeping the U.K. and Europe and forcing lockdowns in some areas, the ongoing decline in U.K. engine production is particularly concerning. Manufacturers are in dire need of stability and business confidence to inspire demand if they are to fully reboot production. But with time running out to secure a critical free trade agreement with the EU—by far our biggest trading partner—the uncertainty continues with investment stifled. We urge negotiators on both sides to keep working on a deal that will support the automotive sector and its highly integrated supply chains."

Commercial vehicle production stable, but challenges ahead
U.K. commercial vehicle (CV) production increased 3.3% in September, according to the latest figures published by SMMT. A total of 7,603 vans, trucks, taxis and buses were built in Britain in September, an increase of 240 units driven by production to fulfil several large UK fleet orders.
Output for the domestic and overseas markets grew 9.2% and 0.3% respectively, with exports making up 64.6% of vehicles produced. Nearly all (95.5%) of the units exported overseas were for the EU market, the key trading partner for the U.K. automotive industry.
Although overall September performance looks positive and in line with previous years,2 bus and coach manufacturing continued to suffer from the effects of COVID, with volumes down -43.2% to just 63 units. Demand for new buses came to a virtual standstill when the nation entered lockdown in April and, with social distancing measures discouraging public transport usage for most of the year, the fall in demand has caused production to plummet -54.2% to just 756 units so far this year compared with 1,652 in the first 9 months of 2019.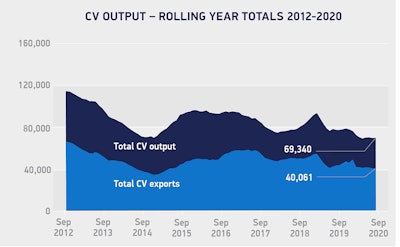 Total CV production in the year-to-date remains at a low level, down -16.8% on last year, with a shortfall of almost 9,000 units in the first three quarters.
Hawes says, "Fluctuating fleet buying cycles mask the underlying impact of the pandemic on commercial vehicles, but it is the bus and coach sector that is bearing the brunt. While manufacturers and their supply chains can flex and adjust, they cannot sustain such low demand for much longer and we urgently need government's pledge to invest in the buses turned into action. More widely, as time to agree [on] a Brexit deal runs out, we need negotiators to keep up the momentum to agree [on] an FTA that will safeguard the sector's future competitiveness in 2021 and beyond."
1 September 2014 UK engine production 211,185 units
2 2020 – 7,603, 2019 – 7,320, 2018 – 8,288, 2017 – 7,208, 2016 – 9,742