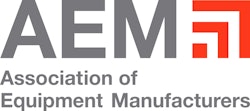 U.S. exports of construction equipment continued to grow in 2011 and ended the first half of the year up 48% compared to January-June of 2010. Total construction machinery exports at mid-year were $11 billion, according to the Association of Equipment Manufacturers (AEM). The off-road equipment manufacturing trade group consolidates U.S. Commerce Dept. data with other sources into member global trend reports.
"Exports remain a bright spot for the U.S. construction machinery manufacturing industry with continued weakness in the domestic marketplace. Pro-American export policies such as free trade agreements are proven to spur economic growth, which means manufacturers can provide more jobs for U.S. workers. That's a key message of our I Make America campaign, which underscores the significant role of manufacturing in U.S. job creation," states Al Cervero, AEM vice president and construction sector leader.
Exports of U.S.-made construction machinery to South America grew 51% to total $2.1 billion, and exports to Central America totaled $933 million for a 24% gain. Among the "top 10" countries buying equipment during the first half of 2011 were Brazil, Chile, Colombia, Mexico and Peru.
Asia's export purchases increased 54% to $1.5 billion, and Europe's 75% gain translated to $1.4 billion.
Australia/Oceania took delivery of 52% more American-made construction machinery for a total $1 billion, and exports to Canada increased 43% and totaled $3.4 billion.
U.S. exports to Africa grew 50% for a total $636 million.
The top 10 export destinations for American-made construction equipment during the first half of 2011 were: (1) Canada - $3.4 billion, up 43%; (2) Australia - $1 billion, up 61%; (3) Mexico - $742 million, up 35%; (4) Chile - $608 million, up 32%; (5) China - $480 million, up 98%; (6) Brazil - $480 million, up 28%; (7) Colombia - $419 million, up 121%; (8) South Africa – $325 million, up 88%; (9) Russia - $319 million, up 195%; (10) Peru - $290 million, up 72%.