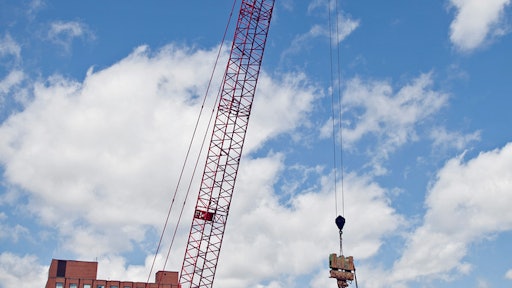 A Manitowoc 16000 played an integral role in the construction of a seawall in Charlottetown, Prince Edward Island, Canada. The seawall will reclaim land for the construction of the PEI Convention Center, which is being built by the Charlottetown Area Development Corp. The project is being overseen by local general contractor Bert & MacKay Construction.
The 16000, owned and operated by Irving Equipment, the pile-driving subcontractor, was initially used to drive sheet piling that forms the base of the seawall. While typical pile driving in marine applications might require a barge-mounted crane, the size and capacity of the 16000 allow it to work on land, operating at radii of between 125 ft and 180 ft.
Victor Murty, project manager for Irving Equipment, says that operating a large crawler crane from land for these marine applications help mitigate weather, tidal influences and other environmental considerations.
"Even though the 16000 has higher rental rates than typical cranes used in pile driving, it is often a very competitive choice for customers in marine applications," Murty says. "There are definite savings in not mobilizing barges. Plus, it is easier to access materials from land."
For the pile driving, the crane worked with 247 ft of main boom, a wind tip attachment and a vibratory-hammer to drive the piles. The wind tip provides greater offset and keeps the hammer and sheet pile away from the boom during installation.
With the installation of sheet piling complete, the 16000 helped another subcontractor install whalers, the cross beams that support the seawall. For this work, the crane again worked at radii of between 125 ft and 180 ft. The crane arrived on site in late May and will stay on the project until mid-August.
The Manitowoc 16000 is a 400 t (440 USt) capacity crane that is often used for wind turbine erection. Over 85% of 16000s are sold for wind turbine applications, including the crane used in this project. But the adaptability of the crane's configuration allows Irving Equipment to expand its use beyond wind turbine erection.
Irving Equipment, a crane rental company based in Saint John, New Brunswick, Canada, has a fleet that works throughout the Atlantic provinces of Canada and throughout the United States. In addition to crane rental and a heavy transport division, Irving Equipment also specializes in pile driving, completing anywhere from 30 to 40 projects a year.
Irving Equipment purchased the 16000 used on this project from Shawmut Equipment, a Manitowoc dealer based in New England, U.S., which also has a branch in Canada.