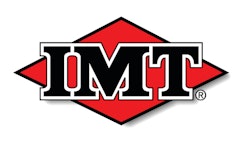 Iowa Mold Tooling Co. Inc. (IMT), an Oshkosh Corporation company, introduces the new 6000 model to its lineup of telescopic cranes at The Work Truck Show 2012. Rated at 39,000 ft.-lbs., the 6000 telescopic crane offers a maximum capacity of 6,000 lbs. and 22 ft. of reach. Besides being designed for IMT Dominator® I and Dominator II mechanics truck bodies, the 6000 model crane also integrates seamlessly with the bodies of other manufacturers.
With the addition of the 6000 model, the IMT Series III telescopic crane lineup now offers maximum capacities ranging from 6,000 to 14,000 lbs. The other six models of the Series III cranes — the 7500, 8600, 9500, 10000, 12000 and 14000 — were unveiled in 2011 with model numbers corresponding to their maximum capacity. The existing cranes feature up to 30 ft. of reach and increased capacity over previous models. IMT upgraded the structure and stability of its industry-leading Dominator mechanics trucks to support the expanded crane capabilities.
"The new 6000 telescopic crane delivers the strength and control of our existing Series III cranes with the lift, reach and multi-manufacturer compatibility to meet unique application needs in a variety of industries," says Jim Hasty, IMT Vice President – General Manager.
All models in the IMT Series III telescopic crane lineup feature a patent-pending Penta Boom design. With a flat top that eliminates stress concentrations inherent with certain boom designs and a half hex that controls tracking at long reaches, the innovative five-sided boom offers outstanding strength and durability. Besides the Penta Boom design, other standard features of IMT Series III telescopic cranes include:
Ten degrees of negative boom angle, providing added versatility and allowing the crane to be reached more easily from ground level
Fully proportional pistol grip radio remote control offering traditional fit and operation
LED overload indicator lights on the remote control handle that alert the operator when the crane is approaching overload condition or is in overload
Flip sheave boom tip for added lift height in tight quarters
Planetary winch that allows for faster hoisting and lowering speeds and smoother overall operation
Patent-pending boom hook stow that allows the boom hook to be stowed more easily and quickly
The new IMT Dominator Series III bodies have been modified to enhance stability and support for the increased reach and capacity of the Series III cranes, per American Society of Mechanical Engineers (ASME) standards. Operators now have the ability to perform lifts in the approved load area at full capacity of the crane load chart. The Dominator Series III bodies also offer significant flexibility, enabling customers to specify which new crane best fits their application needs. The Dominator I model offers compatibility with the 6000 and 7500 cranes, while the Dominator II truck can support the 6000, 7500, 8600, 9500 or 10000.