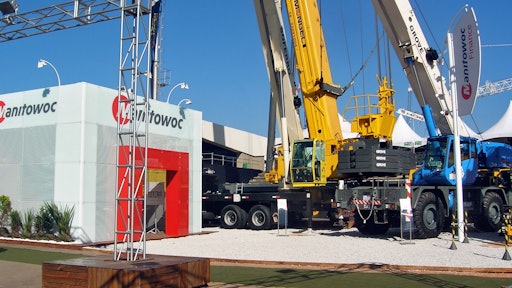 At this year's M&T Expo 2012, which runs May 29 to June 2, 2012, in Sao Paulo, Brazil, Manitowoc Cranes will display a number of its most innovative and popular cranes and show off its new manufacturing capabilities in Brazil.

South America represents a major area of growth for Manitowoc and a market where it has traditionally maintained a market-leading position. To support its large and growing customer base, the company recently opened its first factory in the region, in Passo Fundo.

Luciano Dias, vice president of sales for Manitowoc Brazil, says M&T Expo is a chance to show Manitowoc's commitment to customers in Latin America.

"We'll be talking to visitors about our new factory in Passo Fundo, which will provide a faster, more efficient infrastructure to support Latin America's crane market. Additionally, we'll be highlighting the variety of funding options available through Manitowoc Finance, which means there's never been a better time for South American companies to become Manitowoc customers."

The exhibition also marks the first time in Latin America for crane users to see the Grove GMK6300L, a class-leading crane with superior reach. Also on display will be the Potain Igo 13, a popular self-erecting crane and a Grove rough terrain crane.

"In addition to the GMK6300L, which is making its first trade show appearance in Latin America, the Igo 13, with its wireless remote control and self-erecting setup, is something that lots of visitors at M&T will not have seen before. It's a highly productive crane that includes the latest technology, and we're excited to show it," he says.

The 300 t Grove GMK6300L stands out because it has some of the strongest lift capabilities in its class and features an 80 m boom. Having such a long boom eliminates the need to rig the jib for many types of lifts, saving both time and money.

The GMK6300L is easy to use in a variety of applications, such as tower crane erection, placing auxiliary services (air conditioning units, elevator equipment, etc.), chimney work and general lifting. The crane also features Megatrak independent suspension system, which provides optimal travel for both on and off the road.

The featured GMK6300L is owned by Transpes, a logistics and equipment company based out of Brazil. The company purchased the crane from Manitowoc along with two GMK4115L cranes, a GMK5165-2 and a GMK5275.

The Potain Igo 13 is a self-erecting crane that features a wireless remote control and variable frequency electronic motor for efficient lifting, hoisting and trolleying. In the past, such self-erecting cranes were regarded as too expensive for the Latin American market, but the cost-saving and productivity that these cranes offer on a variety of applications in the region means that interest is growing. The Igo 13 on display at M&T Expo 2012 will be the third in Brazil. The first was purchased by Saraiva and the second was bought by Santin Group to help construct Manitowoc's new Passo Fundo factory.

The Igo 13 can be towed to job sites on Potain transporter axles or a standard semi-trailer. It has three operational jib positions, a 22 m maximum hook height and adjustable spread chassis. The crane's hydraulic technology allows for quick folding and unfolding.

Also represented at the booth will be Manitowoc Finance, which partners with De Lage Landen Financial Services (DLL), a division of RaboBank Group. The program helps customers finance the purchase of new cranes. It enables companies to buy equipment as soon as they need it — often with only a small down payment. Manitowoc's finance program doesn't tie up a company's existing credit lines, either. Nearly all of Manitowoc's cranes are eligible, including crawler cranes, mobile hydraulic cranes, tower cranes and boom trucks.