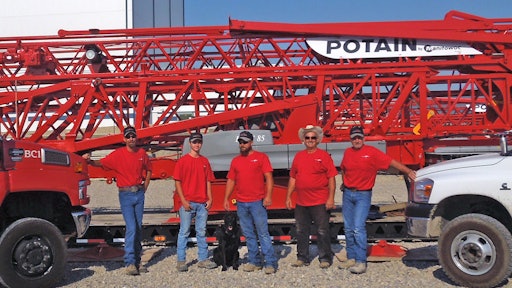 Self-erecting tower cranes have been a mainstay on European jobsites for decades. But over the last 10 years, this crane category has grown in popularity in North America, especially Potain's line of Igo self-erectors.
One company making full use of the advantages these cranes offer is Salt Lake City, UT-based Bronson Crane. Already the owner of 12 self-erecting cranes, Bronson recently purchased an additional three Igo T 85 A's and an Igo T 70 to add to its fleet of rental cranes.
Earl Bronson, founder of the company, says he has so much confidence in the Igo line that he's replacing every self-erecting crane in his fleet with Potain cranes. Having already upgraded 75% of the fleet, he's almost reached that goal.
"Our customer base, which is extremely diverse, has been very happy with the Igo line," he says. "The reach and capacity of these cranes are incredible. They have really led us into a new realm of lifting."
Bronson says he chose his latest four Igo cranes because of their dynamic hook heights, ease of roadability and extraordinary lifting capacities.
"We have rented, sold and serviced self-erecting cranes in our area for more than decade," he says. "We have been in the 21 m to 42 m range, but never had the opportunity for the reach, hook heights or capacities these Igo cranes are offering us."
The Igo self-erecting crane line is flexible enough in its application that Bronson plans to rent the cranes to companies in a variety of industries, including contractors in masonry, steel erection, framing, concrete and general construction. Bronson has also been pursuing civil/bridge deck contractors and has "high hopes" for building a customer base in the field.
Bronson purchased the Igo 42 in January before ordering the three Igo T 85 A's and an Igo T 70 from Potain's range of telescoping self-erecting cranes. The company commissioned the first Igo T85 A in May and will commission the other two in July, along with the Igo T 70. Bronson plans to have all four cranes on jobsites by the first week of August.
The Igo T 85 A is ideal for small construction sites or jobsites where space is tight. It features a hook height range of up to 125 ft. and a 6.6 USt lifting capacity. The crane can be controlled via wireless radio remote control and is available with an optional Ultra View cab.
The Igo T 70 is somewhat smaller than the Igo T 85 A and occupies only a 14.8 ft. by 14.8 ft. footprint on site, yet it still boasts a hook height of up to 105 ft. and a 4.4 USt lifting capacity. It also features Potain's Optima load control system that automatically adapts and maximizes hoist speed for efficient cycling. Additionally, it can be controlled with wireless remote control and can be equipped with the optional Ultra View cab.
With the addition of the four Potain cranes it recently purchased, Bronson has two HD 40s, four Igo 50s, three T 85 A's, one T 70 and one Igo 42 in its fleet. Soon, the company will be replacing five self-erecting cranes that were made by other companies, completing its switchover to an all Potain lineup.
Bronson Crane has been in business since August 2006. The company has four people on its full-time staff and an on-call crew of operators and iron workers. In 2008, Bronson became an official Potain distributor. Its cranes have worked on premier jobsites, such as the Manhattan Project in Las Vegas, NV, the Canyons in Park City, UT, the Towers at Brigham Young University in Provo, and the Bridges at City Front in Salt Lake City.