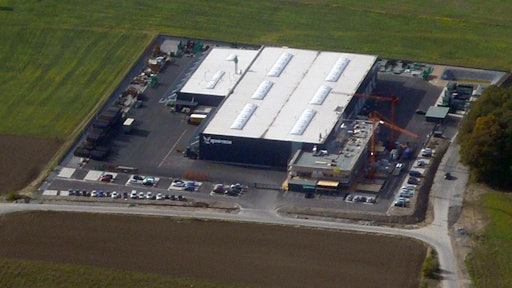 Komptech has factories in several locations in Europe. Its existing Oelde facility specialized in trommel screens and separation technology, and as demand for Komptech trommels continued to rise, it was obvious that a larger facility would be needed. The lease on the old plant was set to expire, so instead of renewing, the company decided that the time was right to build new from the ground up. The new factory was constructed over the course of 2012 and went into operation in early October. On October 31 the first new trommel left the factory hall, a Cribus 2800 semitrailer.
It was the first of its kind to be built anywhere, and went to a customer in the U.S.
Managing Director Bernd Thielepape of Komptech Germany welcomed the possibilities the new plant affords. "Our growth had simply outpaced capacity in the existing Oelde plant. Now we have room to expand, and also room to be more flexible in filling special orders. The additional stock space also lets us pre-manufacture spares so they can be available faster." Among other things, the larger factory features a new pass-through sandblaster, and a new painting and drying station for efficient coating and rustproofing.
The facility includes 60,000 sq. ft. of space for welding, assembly and storage, a separate 6,400 sq. ft. painting hall, and 10,700 sq. ft. office space on a 6 acre lot. It employs about 120 people, and is laid out to provide 4 to 6 week turnaround between order entry and machine delivery. Current capacity is 120 machines per year, which can be readily increased to 200 when it becomes necessary. 
With this new plant, Komptech has substantially added to its capacity in the expanding trommel market, and is well prepared to execute on its growth strategy for the coming years.