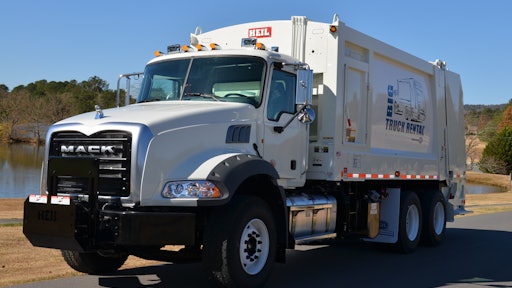 Refuse customers seeking a lightweight and cost-effective vehicle that is also tough and reliable can now look to the MACK Granite Medium Heavy Duty (MHD) rear loader, introduced at the 2013 Canadian Waste and Recycling Expo.
The Mack Granite MHD rear loader offers a reduced weight option for refuse companies and municipalities desiring a truck built for lighter-duty cycles, such as short inner-city routes or for service in smaller towns. Because the Granite MHD has lighter weight components than other refuse models, it offers an economic alternative to help fleets increase their return on investment.
"The MHD rear loader is a complement to the existing Mack refuse product line that includes the MACK Granite and the MACK TerraPro Cabover and Low Entry vehicles," says Curtis Dorwart, Mack Refuse Marketing Product Manager. "This tough, lightweight truck is a customized option for our refuse customers who need a vehicle that is ideal for shorter routes and lower gross payload. We feel that it's important to provide a complete offer of lighter- and heavier-duty refuse vehicles so we can tailor the truck to the application."
The clean back-of-cab design of the Granite MHD accommodates a range of body options and makes the vehicle particularly well-suited to rear loader applications. Available in 4x2 or 6x4 configurations, the truck is equipped with a Cummins ISL9 345- horsepower engine with a maximum torque rating of 1,150 lbs.-ft., offering the power and durability that Mack is known for in a lighter package. In fact, the MHD rear loader is available as a Class 7 solution when configured as a 4x2.
The MHD rear loader's cab also offers improved driver comfort because it is mounted on airbags and shocks. With a short bumper-to-tire distance, the MHD rear loader has a superior front-end swing clearance and an excellent wheel cut that allows it to maneuver in and out of tight collection sites.
"Mack has been in the refuse business for more than 100 years, supplying industry-leading solutions to best meet customers' needs," says John Walsh, Mack Vice President of Marketing. "As the clear market leader in refuse today, Mack vehicles are designed and spec'd for the particular requirements of our customers. The Mack Granite MHD rear loader is just another great example of the purposeful design of our trucks and of our commitment to supplying a full range of products to meet the needs of the refuse industry."