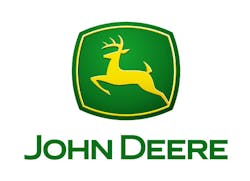 Deere & Company reported net income of $899 million for the third quarter ended July 28, 2019, or $2.81 per share, compared with net income of $910 million, or $2.78 per share, for the quarter ended July 29, 2018. For the first 9 months of the year, net income attributable to Deere & Company was $2.532 billion, or $7.87 per share, compared with $1.584 billion, or $4.82 per share, for the same period last year. 
Affecting 2019 and 2018 results were charges or benefits to the provision for income taxes due to U.S. tax reform legislation (tax reform). 
Worldwide net sales and revenues decreased 3%, to $10.036 billion, for the third quarter of 2019 and increased 5%, to $29.362 billion, for 9 months. Net sales of the equipment operations were $8.969 billion for the quarter and $26.182 billion for nine months, compared with $9.286 billion and $25.007 billion last year.
"John Deere's third-quarter results reflected the high degree of uncertainty that continues to overshadow the agricultural sector," says Samuel R. Allen, chairman and Chief Executive Officer. "Concerns about export-market access, near-term demand for commodities such as soybeans, and overall crop conditions, have caused many farmers to postpone major equipment purchases. At the same time, general economic conditions remain positive and are contributing to strong results for Deere's construction and forestry business."
Company Outlook & Summary
Company equipment sales are projected to increase by about 4% for fiscal 2019 compared with 2018. Included in the forecast are Wirtgen results for the full fiscal year of 2019 compared with 10 months of the prior year. This adds about 1% to the company's net sales forecast for the current year. Also included is a negative foreign-currency translation effect of about 2% for the year. Net sales and revenues are projected to increase about 5% for fiscal 2019. Net income attributable to Deere & Company is forecast to be about $3.2 billion.
"In spite of present challenges, the long-term outlook for our businesses remains healthy and points to a promising future," Allen says. "We continue to expand our global customer base and are encouraged by response to our lineup of advanced products and services. Furthermore, we are fully committed to the successful execution of our strategic plan focused on achieving sustainable profitable growth. In support of the strategy, we are conducting a thorough assessment of our cost structure and initiating a series of actions to make the organization more structurally efficient and profitable."
Companies in this article