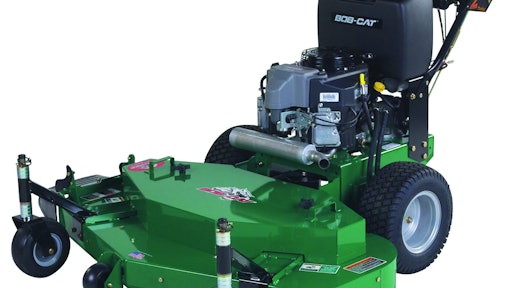 BOB-CAT introduces the 2011 BOB-CAT Mower Lineup. The 2011 line of BOB-CAT mowers, which includes commercial walk-behinds, residential zero-turns, and three levels of commercial zero-turn riding mowers, is all new for 2011 with fuel systems that meet 2011 EPA exhaust and evaporative emission requirements. There are many new features beyond emissions compliancy in relation to mower comfort, stability and productivity.
2011 BOB-CAT mowers clear the air through a newly designed non-permeable tank that eliminates vapor seepage and offers ample vapor space at the cap keeping the cap dry on tilts and slopes. A new fuel cap non-permeable gasket eliminates cap vapor release and a patent pending non-permeable vapor retract line feeds tank vapors back through the carburetor of the engine to be recycled – all without loosing fuel capacity.
Beyond the tank, features of 2011 BOB-CAT zero-turn riding mowers enhance comfort, increase productivity, ease maintenance and service, increase stability, and improve handling and cut capability.
Ergonomic comfort is achieved through BOB-CAT's exclusive ISO-Ride Comfort System. The ISO-Ride Comfort System isolates the operator from vibration at all touch points including the hands, feet, and seat. Designed by BOB-CAT, the new best-in-class full back elastomeric fabric suspension driver's seat supplies excellent contoured upper and lower back support and features a shock absorbent sling plate inside the seat base that absorbs vibration while dual elastomeric radial bearings under the seat eliminate terrain impact for a better feeling, smoother all-day ride. Vibration isolators under the footplate help prevent fatigue and numbness in the feet and legs. Larger motion control levers with thicker hand grips are supported with tension mounts to reduce lost motion and vibration isolators diminish vibration from the unit to the hands and up the arms for steady and smooth, fatigue-free operation. In transport, tension mounts eliminate "arm flapping" of motion control levers, extending lever life.
Quality enhancements include universal control panel positioning so that operators of every size can mow in custom comfort and have controls within easy reach with no operational distraction from the work at hand. A new extra wide discharge opening and oversized discharge chute with fanning groves eliminates clumping of grass clippings and the need to double-cut in thick wet or tall lush grasses. The wider deck discharge works with the high velocity blade tip speed and new patent pending DoubleWave front blade baffle controls provide a powerful, controlled air flow lifting and drying glass blades for a straight cut that when dispersed through the new chute with fanning groves, produces a wide fine clippings discharge.
Productivity enhancements of the line include a lower operator platform for an exceptionally stable center of gravity, improved traction, and unit balance allowing the mowers to hug hills and maintain a consistent cut on slopped terrain without slippage.
All BOB-CAT mowers are designed to be easy to maintain and service with no-hassle, easy to access wear and service points. Enhancements to the 2011 line include a new larger hydraulic tank that requires a lower operating vacuum for better cooling, reduced noise, and improved tank life. New electric clutch drive provides for tool-free belt changes reducing service charges and making it possible to change belts out in the field for less down time. New flat-free caster wheels ride like pneumatic tires and provide worry-free peace of mind on the job while reducing maintenance costs and down time.
See the 2011 line in action on YouTube, visit www.YouTube.com/bobcatmowers.