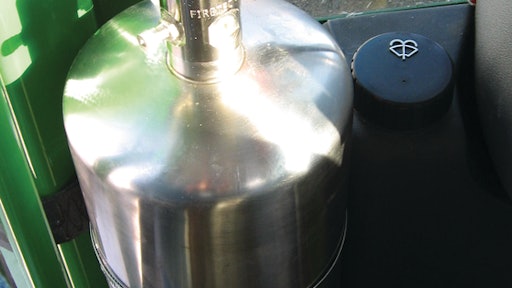 While fire itself has been around for hundreds of thousands of years, our ability to harness it still remains juvenile at best. It is for this reason that learning and developing ways to combat fire on heavy-duty off-highway equipment remains an important critical issue to solve.
Distinguishing fire from fire
Fires are typically classified based on the fuel of the fire. Class A fires involve ordinary combustibles including plastics, rubber, wood and paper, typically found in wiring insulation material and hydraulic hoses.
Flammable liquids consisting of fuel, hydraulic fluids and brake fluids constitute a Class B fire hazard.
Any fire involving electrical energy is given a Class C rating which indicates that the suppression agent to be utilized is approved for use on energized electrical equipment such as battery terminals and electric control areas of the machine, states Ted Ritter, sales manager - vehicle systems, Kidde Fire Systems, Ashland, MA.
Each industry is susceptible to different types of fires depending on its environment and the machines themselves. "Mining equipment has predominately class B hazards, but several class A hazards are also on board. In some mining applications, class A materials can also collect on various portions of the machinery.
orestry equipment has both B and A (wood fibers)," says Joe Beranek, marketing manager — Tyco Fire Suppression and Building Products, Tyco Safety Products, Marinette, WI.
"Class A hazards bring another element to the fire scenario. Fuel and oil can soak into wood fibers, chips, bark and sawdust (and coal dust on mining vehicles) found in various places below the engine. This is an area of the vehicle not normally protected by the fixed fire suppression system, but must be protected on forestry equipment."
Every system is special
Each fire suppression system is custom designed in relation to the piece of equipment, its application, and the environmental concerns of the owner/operator.
Tyco has a library of basic designs used by its installation partners, says Beranek. "The systems will differ depending upon changes to the equipment and the different installers or designers." Tyco makes sure all of its Ansul (a brand of Tyco Fire Suppression and Building Products) distributors are fully trained and factory certified to design, install and maintain the equipment.
Watch Tyco Fire Suppression and
Tyco LT-A-101/LVS videos for system
demonstrations and supplemental information.