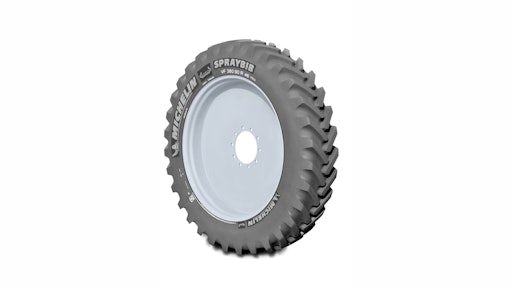 During this year's Farm Progress Show, there was no shortage of new equipment launches and product introductions. While each piece of equipment seemed bigger than the next, it was clear that all of the manufacturers had one common goal in mind—increasing productivity for the farmer.
Couldn't make it to the show? Be sure to check out our media gallery to see highlights of the various equipment and products on display throughout the event.
Claas of America, for example, introduced its new XERION 4x4 tractor which is available in two versions—one with a fixed center cab, and one with a rotating cab for better visibility to the hitch area. Drew Fletcher, Product Manager, Tractors at Claas, explains that the cab can be rotated within 30 seconds at the push of a button. Once the operator presses a button within the cab, the entire cab lifts up and rotates 180 degrees.
Instead of having to crane their neck to see behind them, operators will be able to stay comfortably seated while getting a better view behind the vehicle to complete their tasks.
Watch a demonstration of the rotating cab from the 2014 Farm Progress Show.
Additional features of the new tractor include a Tier 4 Final compliant engine available in three power levels from 422 to 517 hp which enables speeds up to 31 mph for faster travel between fields. A more open architecture for auto guidance and third party GPS systems was included on the new tractor, as well as the new Jaguar forage harvester also launched at the show. Matt Jaynes, Product Coordinator at Claas, says the company did this so farmers have the choice of using whichever system they want and that best fits their needs, no matter the manufacturer.
Introduced just prior to this year's Farm Progress Show, the John Deere 9R/9RT Series tractors offer improved productivity through enhancements to operator comfort such as the inclusion of a reverse camera for easier backing and visibility behind the tractor, as well as John Deere's CommandARM which places all of the operator controls within easy reach. Also available for the wheeled versions of the tractors is John Deere's new HydraCushion front axle suspension system. HydraCushion is designed to mitigate powerhop by keeping downforce on the front of the tractor. This is accomplished through the use of two hydraulic cylinders which separate the front axle from the tractor while nitrogen filled accumulators manage shock loading as the suspension system senses the tractor is about to go into a powerhop.
Kevin Juhl, Senior Marketing Representative at John Deere, says the issue of powerhop has come about in part due to the increased size of tractors and their tires, as well as their increased horsepower capabilities which all lead to increased wheel slip and thus powerhopping. Though the typical solution has been to increase tire pressure and add ballasts, Juhl says these solutions take time to complete, interfering with an operator's productivity. In addition, he says they can have negative effects on the ground, such as increased soil compaction. And though many tire manufacturers have been developing products to help mitigate these issues, Juhl notes that most manufacturers still recommend increasing tire pressure to reduce powerhop and the new tire technologies being developed are designed to work at lower tire pressures. HydraCushion, on the other hand, does not require operators to leave the cab; they simply have to engage the system as soon as they feel the tractor going into powerhop and continue focusing on their work.
For improved crop harvesting, AGCO introduced its transverse rotary Gleaner S8 Super Series combine. According to Kevin Bien, Gleaner Brand Marketing Manager at AGCO, one of the biggest enhancements to the combine is the inclusion of a cleaning shoe with a perforated cascade pan. He says the need for an improved cleaning shoe came about because of changing crop conditions and farmers having to get into the fields sooner, typically during high moisture conditions. The slanted, perforated pan makes it easier for wet crops to go through the shoe, whereas in previous designs damp crops would get caught in the pan and prevent as much crop from being harvested. In addition, a small amount of air moves through the shoe to help keep the crops moving through the system. Bien says the new shoe helps increase dry and wet grain capacity by 10%.
Watch AGCO's video simulating the capabilities of its new cleaning shoe, as well as other new features of the 2015 Gleaner S8 Super Series combine such as the grain elevator offering a 6% speed increase for moving crops through the machine.
Bigger machines mean bigger tires
Tracks and tires were also a large part of the displays at the show. Several manufacturers—including Goodyear Farm Tires/Titan Intl., Michelin and Mitas—introduced new sizes of tires to meet the needs of today's increasingly bigger agricultural equipment. Besides having to accommodate the increased payload needs of the equipment, the new tires also have to reduce soil compaction caused by these larger machines running through the fields.
Michelin introduced its newest tire size for sprayers at Farm Progress, the SprayBib VF420/95, which the company says was developed because of a request from John Deere to meet the larger sizes of its sprayers. While a larger size for carrying heavier payloads, the tire features the same technology as the company's other SprayBib tires such as the ability to function at lower tire pressures to reduce soil compaction and mud/dirt evacuation capabilities for a smooth, comfortable ride.
Almost every tire manufacturer at the show was displaying its version of increased flexion (IF) or very high flexion (VF) tire technologies, which have become common solutions within the industry for minimizing soil compaction without compromising load carrying capabilities. During the show Wayne Bergonholtz of Firestone gave a presentation on the company's Advanced Deflection Design (AD2) tires. He explained that for farmers looking to transport heavier loads, the IF version is capable of carrying 20% more load at the same tire pressure as standard tires, while the VF version can carry 40% more load at the same pressure. For reduced soil compaction, both versions can carry the same load as a standard tire but at lower psi.
Mitas Tires was yet another manufacturer who displayed several of its new IF/VF tires during the show including:
Mitas Improved Flexion tires makes world premiere at Farm Progress
Mitas displaying one of world's largest agricultural tires at Farm Progress
While IF and VF tire technologies have become the most commonly known technologies for overcoming soil compaction issues, Goodyear Farm Tires/Titan Int'l. was highlighting the latest in its line of low sidewall (LSW) tires. The lower sidewall on these tires helps reduce soil compaction, power hop and road lope. Scott Sloan, Agricultural Product Manager for Titan Tire and Goodyear Farm Tires, says the company has been focusing on developing more sizes of LSW tires because eventually IF tires will not be able to carry the ever-increasing loads of agricultural equipment. LSW tires, on the other hand, will be capable of carry those heavy loads while still offering the benefits of reduced soil compaction, power hop and more.
Tracked vehicles could also be seen at almost every equipment manufacturers' stand. During the show New Holland introduced its T8 SmartTrax tractor and sister company Case IH introduced its Magnum Rowtrac tractor, both of which feature wheels at the front of the machine and tracks at the rear. In the New Holland T8 tractor, the rear tracks are designed to follow the front tires for better turning capabilities. In addition, the tracks help reduce soil compaction even in extremely wet conditions; the company says this has enabled farmers to get into their fields three to four days sooner than they might have otherwise with a non-tracked tractor.
Want to know more about current tire trends in ag, and other heavy-duty industries? Be sure to look for our November/December issue's feature on tracks and tires.