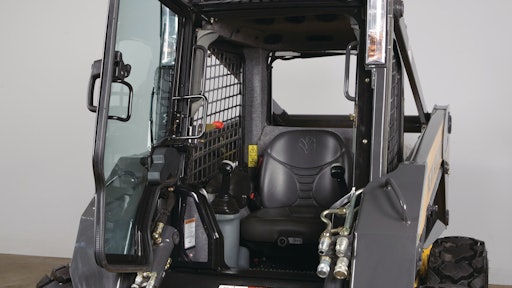 Even after 35 years of skid steer loaders, New Holland Construction continues to find ways to improve the cabs for drivers. A deluxe cab design for Super Boom skid steer loaders and compact track loaders features increased space, 360 degree visibility, more comfort, and ease of operation for greater work site efficiency.
Analyzing the outside of the cab, the first thing to notice is the convex, full-view door with more glass for an increased view of the work site and a more spacious interior. The door is able to open a full 90 degrees and features a short handle which allows the operator to close the door without having to leave the seat. A repositioned windshield wiper helps to ensure a clearer view in all work conditions, and visibility for the rear of the cab is augmented with a large rear window, low engine hood and no rear frame towers to block the view.
The side-view windows lock easier with incremental window stops. The detents lock into position and remain stationary during operation so the operator doesn't have to worry about the windows opening and closing sporadically.
The detents are ergonomically positioned at a comfortable height and distance from the operator, avoiding awkward reaching and repositioning. The side windows can be easily removed without tools for necessary cleaning, as can the see-through roof panel. The roof panel provides a clear view to the bucket or attachment, even when positioned at full height.
To further enhance visibility, the cab also features an enhanced lighting package that extends operator visibility and productivity while operating at times of the day with little to no light, as well as in dusty or foggy conditions. The slimmer front lights on the upper corners of the cab make it easier to see and position overhead loads. They maneuver in low-clearance areas or to see the bucket or attachment when positioned at full height. Two additional halogen lights are positioned on the rear of the cab to increase the illuminated area for safer reverse operations.
The cab interior is lined with full-coverage, noise-absorbing trim for a comfortable and quiet work place. An additional sound-suppression package is an option, reducing noise levels by up to three decibels in the operator's station.
The interior's features include adjustable, contoured arm rests for more elbow room and forearm support during long hours on the job site.
The backlit instrument panel features logical labeling with text to easily see and identify symbols. The control pad was removed from the top front of the cab to allot for more front window space, and was vertically mounted to the front-left and front-right of the cab, accessible at arms length.
The heater/defroster kit and optional air conditioning allows the operator to control the climate in any weather. A full-suspension seat comes standard with the cab, and a power plug adapter allows the operator to have a fan, an mp3 player, or any other device to make the cab, more comfortable.
35th anniversary for skid steer loader
New Holland Construction is celebrating the 35th anniversary of the company's first skid steer loader, the New Holland L35, which was introduced in 1972.
"Thirty-five years ago, New Holland introduced the L35 skid steer loader ... with ROPS and a vertical parallel lift boom system," says Terry Sheehan, vice president. "The L35 skid steer loader exhibited the same stability, low center of gravity and large load capacity-to-equipment weight ratio which New Holland Construction skid steer loaders still maintain today.
"Since the introduction of the New Holland skid steer loader in 1972, we have produced more than 200,000 skid steer loaders around the needs of our customers. I'm proud to say that the 220,000th New Holland Construction skid steer loader will roll off our production line in 2007.
"Being a leader in product innovations and improvements for the past 35 years — and having produced more than 200,000 skid steer loaders during that time — is a milestone we can all be proud of here at New Holland Construction."
Combining stability with the reach of the Super Boom vertical lift linkage, New Holland Construction skid steer loaders provide a high lift capacity per pound of total machine weight to move bigger loads and increase productivity, thus improving the customer's bottom line.
David Daniels, brand marketing manager, adds that New Holland Construction has also introduced pilot controls on the five largest skid steer models (L170, L175, L180, L185 and L190), allowing operators who prefer pilot controls to work more productively and comfortably. "Our hydraulic pilot controls provide instant response and control with minimum effort, resulting in precise control," Daniels says. The left joystick controls steering and travel while the right joystick controls lift arm and attachment tilt.
L175 skid steer features a New Holland turbocharged engine rated at 60 hp and has a bucket breakout force of 4,300 lbs and an operating weight of 6,230 lbs. with a full 10-ft. lift height and 29 in. of forward reach.
A special custom black and silver 35th anniversary skid steer loader model will be on display at numerous 2007 trade shows and exhibits in North America.