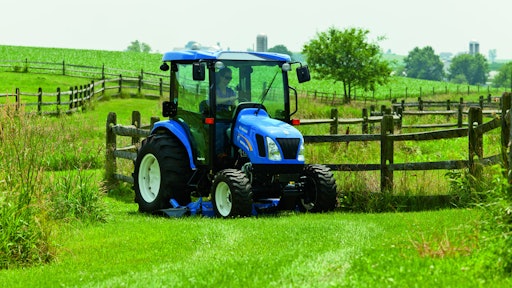 New Holland's Boomer Series II 3040, 3045 and 3050 compact cab tractors (40 to 50 hp) with SuperSuite cab usher in a new level of compact tractor comfort, ease-of-use and control. The factory-installed SuperSuite cab provides a quiet and comfortable environment for efficient year-round operation. With 60 cu. ft. of interior space, this cab is the largest in the compact tractor market.
"The SuperSuite cab provides big tractor amenities that allow operators to climb in, stretch out, and feel right at home," says Dan Valen, Residental/Municipal/Commercial/Utilty Marketing Segment Leader. "These big tractor cab features translate into hours of safe, efficient and fatigue-free operation."
The cab's big tractor conveniences include a high-visibility roof panel that lets the operator see the loader through all ranges of operation for increased productivity, a swivel seat that reduces neck and back fatigue, and a super low-effort left hand shuttle. The one-size-fits-all Go pedal is easy to use, whether the operator wears a size 6 ladies' or a size 15 men's shoe.
Other standard amenities include heating and air-conditioning, a 12V power outlet for charging cell phones or MP3 players, sound-suppressing floor mat and headliner, interior and exterior mirrors, toolbox, front and rear worklights and cupholder. There's even a coat hanger, which provides the operator with a place to hang up his or her coat rather than having to stuff it behind the seat, blocking the view to the drawbar.
The transmission on the Boomer Series II has been upgraded from the prior generation to provide the smoothest and most comfortable operating experience possible. The automotive and large tractor continuously variable transmission (CVT) technology reduces overall cab noise levels – operators no longer hear the annoying "whine" which is associated with standard HST technology. Braking is smooth and steady without the harsh jerk that accompanies hydrostatic transmissions. And unlike hydrostatic technology, when the going gets tough, the CVT digs in and keeps the wheels turning.
Other benefits of this technology include an automotive-style cruise control, which allows the operator to hold, fine tune or resume working speed as well as an optional precision cruise control for constant speeds no matter the terrain or load. A Reactivity setting permits operators to adjust the acceleration and deceleration characteristics of the tractor to suit their driving style or application. Four-wheel drive is engaged electronically with the flip of a switch when slippery conditions materialize. Finally, the tractor has a speed range of up to 18.6 mph to get all the chores done fast.
"With all the comfort and performance packed into this compact tractor, the decision is easy," says Valen. "Upgrade to the Suite – the New Holland SuperSuite."