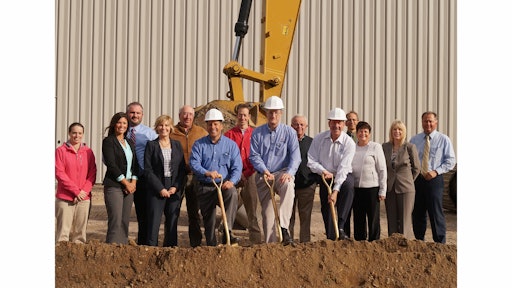 Custom Products of Litchfield Inc., (Custom Products), a market leader in the cab enclosure and operator protection system industry, breaks ground on its $2 million plant expansion.
The planned 20,000 square foot expansion to its Litchfield facility will enable Custom Products to begin manufacturing cabs utilizing expanded processes for several new major customers. Some of the additional expanded capabilities include warehouse expansion, new tube bending equipment and the addition of an off-site paint and finishing facility. Custom Products is projecting an additional 31 jobs will be added due to the increased volume.
The Minnesota Department of Employment and Economic Development (DEED) has approved Custom Products' participation in the Minnesota Job Creation Fund. Custom Products will receive rebates from the state as it completes the expansion and adds new jobs over a 7-year period.
Grow Minnesota!, a program of the Minnesota Chamber of Commerce, and the City of Litchfield were instrumental in the application process. Custom Products became aware of the grant through Grow Minnesota! who directed Custom Products to DEED to start the application process. Part of the application process requires a local governmental authority review the application and approve it prior to submitting to the State. The City of Litchfield was very supportive of the project and the City Council approved the project.
Custom Products expects to occupy the additional space by February 2016 and have the new equipment operational prior to then as it begins production of the new cab program.