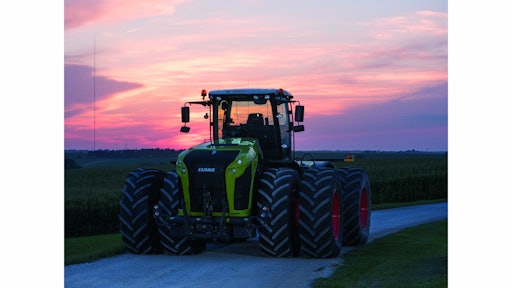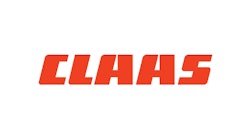 CLAAS of America will introduce one of the world's most innovative all-purpose tractors to North American farmers this week at the Farm Progress Show in Boone, IA. The company's new XERION tractor line was designed with sophisticated American farms, and the implements they require, in mind.
XERION tractors provide best-in-class productivity for tillage, speed for efficient transport, a light footprint when seeding and game-changing maneuverability that makes it suitable for nearly any task. The line has been upgraded from previous European versions to handle the demands of large-scale American farms.
"The XERION is not just an 'off the shelf' product for us. We have worked hard to meet the specs of the North American market," says Drew Fletcher, CLAAS of America Product Manager/Tractors. "Those changes include improved power transmission, duals rather than singles, a better ladder, enhanced hydraulics, and dozens more. It can help our farmers increase their acreage, better utilize their equipment investment, and complete more work in less time."
There are three models of XERION to choose from. The XERION 5000 and 4500 both come equipped with powerful 12.8 liter Mercedes-Benz engines, while the 4000 is equipped with an efficient 10.6 liter Mercedes-Benz engine. All three models achieve maximum output (530 hp, 490 hp and 435 hp, respectively) at 1,700 rpm, meaning that farmers can push hard and still get the fuel efficiency they need.
"They're powerful machines," Fletcher says, "but in today's world, power isn't enough. The new XERION line was designed to meet the performance, productivity and efficiency requirements of today's North American farmer."
CLAAS is known for its technology, and the XERION offers everything farmers have come to expect, including:
Maneuverability and ease of operation are keys factors on today's complex American farms, and the XERION line doesn't skimp in those areas. With six steering modes, the tractor can fit into the tightest spaces, remain stable on uneven ground, and be gentle on the soil when needed. Three driving programs give operators complete control over speed, power and fuel efficiency. And the optional TRAC VC rotating cab means that operators can see what they're doing, in whatever direction they're headed.