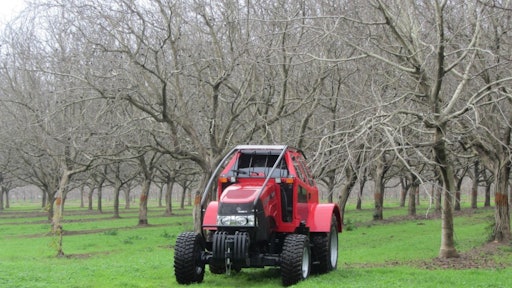 Orchard growers eager to match tractor power and efficiency with the best-possible working environment now have a cab tractor option from Case IH. The new cab combines a low profile with a roomy interior to protect crops while maximizing operator comfort.
"We're excited to better meet the needs of tree farmers with this new cab," says Greg Lucey, Brand Marketing Manager, Farmall tractors with Case IH. "We've received a number of customer and dealer requests to provide this option, and we're happy to answer them with such a sharp and agronomically designed product."
With an overall height of 83 in., the new cab provides the lowest profile in the industry and will help keep produce on the trees. The Orchard Cab provides the operator with a 360-degree view, and all the windows are recessed into the cab for a smooth exterior surface that will not catch on tree limbs.
The ergonomic control layout, large entry and exit doors, cab pressurizer and HVAC system are designed to maximize operator comfort while reducing operator fatigue. Plus, the cab offers the most spacious design in the industry.
With 98% Case IH OEM parts, dealers are able to service almost every part through the Case IH part system. This ensures adequate parts stock inventory and overnight availability of these parts using the dealer's order system (already in place).
"Our orchard customers will be excited to see this because what we've developed is a thoughtful solution with industry-leading features to help them get the job done better and more comfortably than before," Lucey says.
The cab is compatible with the Tier 4 Interim Farmall 85C, 95C, 105C and 115C and will be available for the Tier 4 Final 90C, 100C,110C and 120C soon.