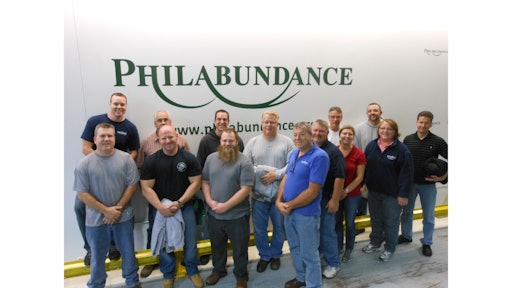 The management team of Southco, Inc. recently donated their time to a worthwhile cause as volunteers at the Philabundance food distribution center in Philadelphia, PA. Volunteers included managers and supervisors from all areas of the Concordville manufacturing facility, including assembly, injection molding, maintenance, new product development, human resources development and quality.
The team sorted, examined and processed over 3,600 pounds of food donated from area food drives by separating acceptable items from the expired or damaged donations. After that task was completed, the team packed 600 pounds of dry cereal into boxes to be loaded onto one of the delivery trucks headed for a Philabundance partner in the Delaware valley.
As the region's largest hunger relief organization, Philabundance distributes 20 million pounds of food to agencies and individuals throughout nine counties in Pennsylvania and New Jersey each year. However, according to Philabundance officials, there are only full time four employees who currently work in the warehouse. Without the daily assistance from volunteers, food could not be delivered to those in need.
Philabundance serves low-income residents at risk of hunger and malnutrition, many of which are children and senior citizens. The food comes from a variety of sources, including community food drives, farms, manufacturers and importers, retailers and wholesalers. All of the food that is collected goes directly into communities through direct service programs and network of agencies that work with the organization.
"We are passionate about supporting the communities in which we operate through the support of local charities," says Keith Smith, Operations Manager at Concordville. Southco participates in many community service projects throughout the year and is proud to add Philabundance to that list.