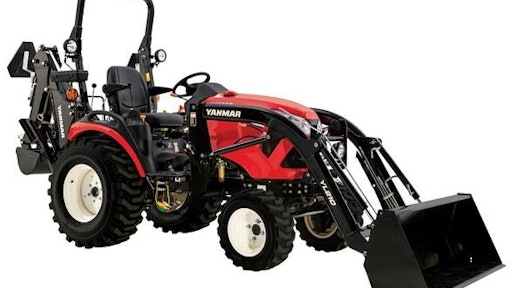 YANMAR America announces that Jarrod Hyder, along with Kazuyuki Kotani of YANMAR Co., Ltd., has received a new United States patent for a "swivel seat" design used on YANMAR's SA221, SA324 and SA424 tractors. The new seat design is a drop-in replacement for the SA Series tractor's standard seat, which results in an improved backhoe operating experience for the customer.
The swivel seat allows the operator to lift the tractor seat upward, shift backward and rotate 180 degrees, so that the seat can be used with a backhoe attachment. This functionality allows the backhoe operator to use a more comfortable high back tractor seat instead of a low back seat, which is typically found on backhoes.
YANMAR America developed this new seat in order to mount the backhoe as close to the tractor as possible, increasing the tractor's stability and strength, and improving the approach/departure angles for loading it onto a trailer. Through this design, YANMAR America is now able to offer one of the strongest backhoe configurations with the best possible ground clearance in the subcompact class of tractors.