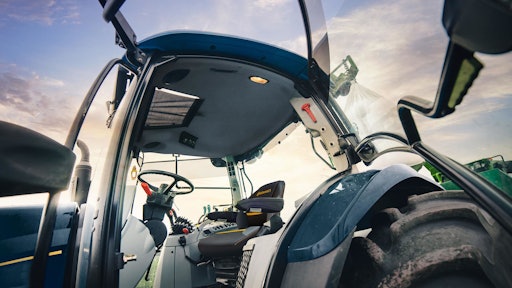 The technology company Continental is providing surface materials to equip cabins of agricultural tractors and combine harvesters as well as the seats of small tractors and ride-on mowers of two American agricultural technology manufacturers. The robust and high-quality materials ensure a comfortable working environment for the driver.
Special grain design makes the difference
Whether in the headlining, on wheel housing covers, side and cockpit trims or on cabin frames – in American premium manufacturer agricultural machinery manufactured for the European market, the driver is surrounded by up to eight components with surfaces that are clad in films from Continental. "One major advantage of our films is the special grain design, which also enhances the appearance of the cabin," says Florian Eick, who is in charge of surface material design for commercial vehicles at Continental. "The surface structure is extremely resistant to scratches, cracks or other damage. It has a positive effect on appearance and feel. The overall appearance is therefore of high quality. Rough and deep surface structures are much more sensitive and impact material durability negatively." Another advantage of the grain design is that it can be easily cleaned and repels dirt. The film cover is thus extremely resistant to chemicals and other substances as well.
The working conditions of agricultural machinery drivers out in the field include extreme heat, burning sun, high winds, snowfall, driving rain, as well as mud and sludge on the ground, which also act on the material of the vehicle interior. Continental's surface materials have been customized for these scenarios to withstand the harsh conditions.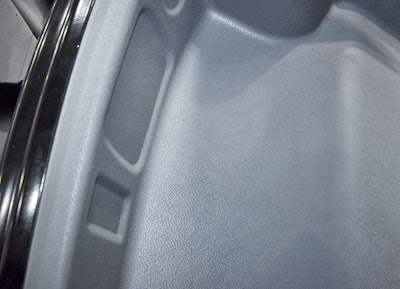 Our focus remains on the driver
Despite increasing automation, working in the field requires a lot of skill and full concentration. "The cab becomes a workplace. Manufacturers are thus increasingly focusing on comfort for the driver, ideally combined with robustness and durability," explains Eick.
In this regard customers benefit from the broad expertise and knowledge transfer within the Continental Corporation. "We are taking automotive industry quality and applying it to the agricultural industry," says Gerd Kirchberg, Sales Manager at Continental responsible for commercial vehicle surfaces in Europe. "Our film experts apply the expertise they have gained in the automotive sector, where in some cases even stricter specifications and standards apply."
Global Quality Standards
The surface material used by the premium manufacturer of agricultural machinery is produced at the Hanover, Stolzenau and Weissbach sites in Germany, as well as in Winchester in the United States. "In the meantime, however, we can also use our 16 manufacturing sites to produce the surface materials with the same know-how and the same roller technology, enabling us to offer the identical quality worldwide," says Kirchberg. "This makes us more flexible and faster when it comes to the specific local requirements of customers."
Overall, the agricultural sector will continue to be an important market for Continental in the future – in a wide range of areas.