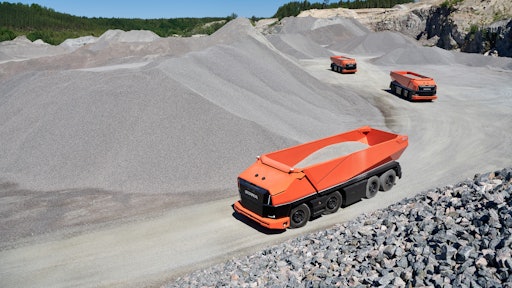 Scania AB
Automation is impacting many aspects of heavy-duty vehicles and equipment, including the operator cab. Operator interface components—also referred to as HMI (human machine interface)—in particular are evolving to meet the needs of automated systems and vehicles.
According to John Pannone, Vice President of HMI Systems, EAO, a lot of equipment today is adopting dual roles in which there are autonomous and manual features, also referred to as conditional autonomy. This requires the equipment and its components to be able to easily shift from one mode of operation to the other.
Pannone says this shift in how machines operate both adds and takes away some features within the operator cab. It also makes some features more important.
Jay Iyengar, Chief Technology Officer, CNH Industrial, says in the off-highway equipment industry autonomous operation is more complex than on-road vehicles. In addition to going from point A to point B, the machine also needs to do active work like planting or seeding. "The user interface gets a little complex because it is also being used to control the equipment to do the work while it's actually moving," she explains.
Machine operations are still complex but as automation progresses, they will become less so. And this will apply to the operator interface as well. Instead of pushing 10 buttons or settings, it will be necessary to use just one or two as most of the work will be done in the background by the automation system says Iyengar. It will help to make things more intuitive and user friendly.
This will be particularly important as younger generations enter the market who don't have the skills or experience of those leaving it. Making equipment easier to use will help speed up the training process while also increasing operators' comfort and productivity.
The ultimate goal of automation is to help increase productivity, simplify decision making for operators and eventually reduce operational costs.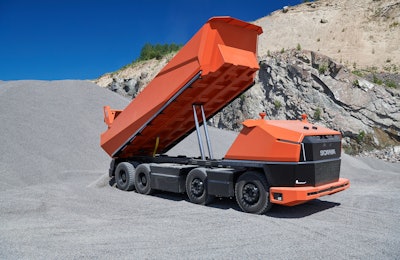 Adaptability and differentiation will be key
Pannone agrees there is a greater need for intuitive operation for HMI designs, particularly those that provide autonomous and manual modes. This equates to there being more feedback so machine operators can be sure they're controlling the piece of equipment in a safe manner.
"There's a great need to understand what mode the equipment is in, so we find that there's a lot of visual [or] audible indication," says Pannone. "But to have HMI products and components that are adaptable is really something that we're seeing customers appreciating because if products can be utilized in both modes, or if you have products that can support the features of both modes, that's really helpful."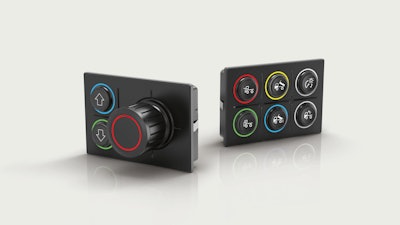 HMI which can easily be adapted or modified for autonomous and manual operation can help ease the design process for OEMs as they could potentially use the same components for each operating mode. When in autonomous mode, the interface components may need to be used for indication purposes whereas manual mode will require more interaction from the operator and the components need to provide both capabilities. Pannone says many of EAO's products include illumination capabilities which can help with this.
He says the company is also developing products which are CAN and LIN based—both serial communication protocols prevalent in today's heavy-duty equipment and especially that which utilizes automation in some manner. "These are serial interface controls that allow for greater visual, audible and flexible designs," he says.
Offering products in various shapes, sizes and colors allows OEMs to better differentiate their control panels for easier operation, as well. For instance, a large, red button may be used for an emergency stop; red is commonly associated with emergencies or stopping so making a button this color helps provide more intuitive operation.
Helping operators quickly and easily differentiate which interface components do which machine functions not only improves productivity, but safety, as well. The level of automation built into a machine will determine how much an operator needs to interact with it, and thus how involved they will be in ensuring safety on the work site.
Related to this, Pannone says there will be a greater need for components which comply with Functional Safety standards (ISO 26262). Essentially, the standard is meant to ensure the safety of electrical and electronic systems and components.
Pannone says EAO is currently developing products which meet this standard, such as the company's Series 09 CAN-based solution. Whether the HMI products are incorporated into a piece of equipment or on a remote control used to autonomously operate a machine from a distance, ensuring they are ISO 26262 compliant assures all parties involved that a safe working environment is maintained.
Listen to our podcast interview with EAO's John Pannone for more of his insights into evolving HMI designs.
New cab and interface options
Although operator cabs have become more simplified in recent years, there are still a lot of physical buttons and displays with which machine operators need to interact. However, increasing levels of automation may bring more control outside of the cab to a tablet or other disconnected device, says Iyengar.
There are already some examples of this in which an operator can autonomously control a piece of equipment from a distance using a tablet, pendant or operator's station. The pendent and operator's station will still utilize some HMI similar to that currently found in the cab such as joysticks and buttons.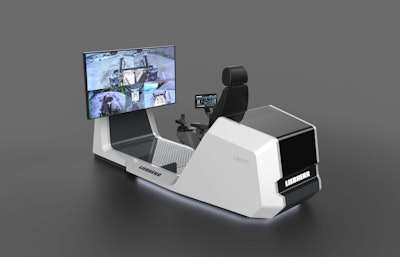 But eventually, as fully autonomous vehicles become more prevalent, there will likely be a removal of the operator cab and thus a diminished need for HMI products. Some small amount of HMI will be necessary on the machines, says Iyengar, as there will still need to be physical interaction with the machine in case connectivity is lost or information needs to be downloaded from it.
In the distant future she says HMI could potentially be removed completely, but in the near-term operator interface solutions will remain an important component of an overall machine design. Removal of the operator cab though will provide both OEMs and component suppliers—including HMI manufacturers—the opportunity to rethink their designs.
"If you don't have the cab, it gives you a lot more degrees of freedom in how you design the overall machine," says Iyengar. You can essentially do a ground up design and create new vehicle architectures that may or may not look like the equipment many customers are used to seeing today.
For instance, Raven Industries—which CNH Industrial announced it would be acquiring in June—has been developing autonomous systems for agricultural equipment for several years. Its OMNiPOWER solution (formerly known as DOT) is a self-propelled power platform which allows easy interchange of farm implements such as sprayers or spreaders. No operator is required, which lead Raven to create a machine with no operator cab and a more simplified design.
As Iyengar describes it, the machine has a galley style and does not look anything like a tractor or other piece of equipment one might see in farm fields today. Removal of the cab allowed Raven to create this unique design which aims to help farmers improve their productivity and efficiency. As it is a single platform on which different attachments can automatically be attached, it can be used for various tasks throughout the farming season. This could potentially help reduce the amount of equipment farmers need, further aiding their productivity as well as cost savings potential.
Autonomous vehicles are a key development area for CNH Industrial. In 2016, CNH's Case IH brand premiered an autonomous concept vehicle, a cabless row crop tractor capable of fully autonomous operation with various field implements. The machine was based on a Case IH Magnum tractor but with reimagined styling, which removal of the operator cab enabled.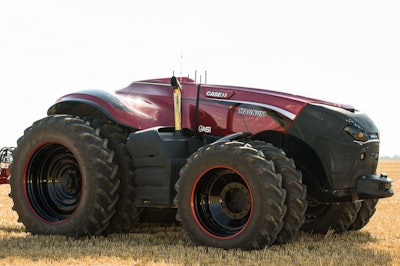 Since then, the company and its various brands have continued to research and develop autonomous vehicles and systems, knowing autonomy will only continue to become more vital to help improve safety and productivity, as well as overcome the labor shortages challenging many off-highway equipment industries.
Removal of the operator cab will of course impact many components and systems currently used on heavy-duty equipment like HMI and air conditioning systems. Iyengar says this will significantly simplify machine designs, but also require use of very robust technology to ensure a properly functioning machine.
She says there is a tremendous amount of sophisticated technology already being utilized in the agricultural and other off-highway equipment industries. Technology will continue advancing, especially as automation progresses, and how it is deployed is just as important as its actual development. It will be vital for manufacturers to ensure technology is deployed in a manner which adds value to customers.
How technology and heavy equipment designs evolve in the coming years remains to be seen. Iyengar says she believes there is a big transformation coming in the next 4-5 years with the deployment of more autonomous vehicles with Level 3 and 4 capabilities. In the next 5+ years she sees broader deployment of new vehicle architectures—i.e. those with no operator cab.
With these evolving machine designs will also come advancements in operator interface solutions to meet the changing landscape of the heavy equipment industry.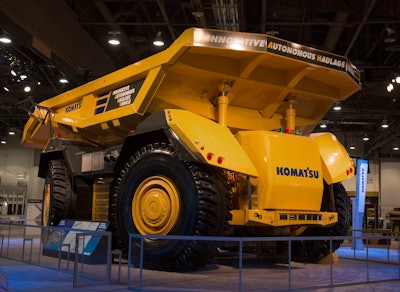 Companies in this article