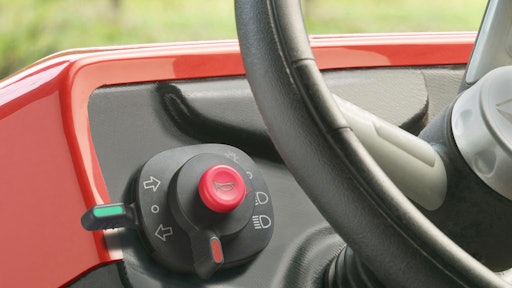 APEM
A variety of smaller vehicles are designed primarily for off-road use. Whether intended for work or pleasure, these machines—including lawn and garden equipment, tractors, recreational vehicles and commercial equipment—may occasionally need to move on-road for brief periods. Original Equipment Manufacturers (OEMs) supplying this equipment often need a way to provide some on-road controls and signaling functionality without undergoing extra development costs.
For these common design situations, there is now a simple and economical plug-and-play switching device option, enabling OEMs to easily provide the standardized basic functionality needed for safe on-road driving. This vehicle instrumentation and control solution can be the best way for manufacturers to provide basic on-road capabilities an off-road vehicle.
On-Road Signaling with Off-Road Durability
On-road vehicles typically need a few basic signaling controls:
Horn momentary pushbutton
Headlight and running light controls (parking, low beams and high beams)
Turn signals (left, right and cancel)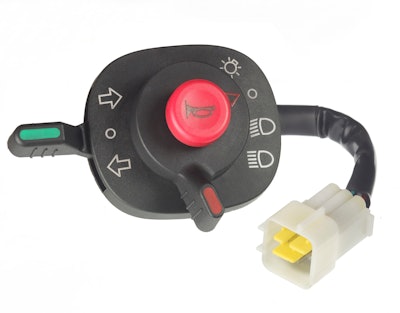 Anyone who has operated a registered, roadworthy car is familiar with these essentials, which are used almost every time the vehicle is operated. However, what is the best way to add these devices to an off-road vehicle, where the functions are only used intermittently? And what is the best way to ensure that these controls work reliably under all conditions, since many off-road vehicles have open cabs or cockpits, which expose the controls to environmental extremes?
Designers can select and arrange individual outdoor rated buttons and switches for the task, but this adds complexity and increases installation cost. Also, the resulting look-and-feel may be inferior to what a user commonly experiences with on-road vehicles. A better approach is necessary, one provided by a new solution.
Signaling Solution
To address these and other concerns, an all-in-one standardized component has been needed and is now available. This device combines all the key functions into a single unit, and it provides the user interface format familiar to drivers everywhere (see Figure 1). Any device considered for this service must meet the following requirements.
A large, red momentary-push horn button is easily seen and accessed by the operator. The multiposition rotary switch allows users to select headlight and running light options or to turn off the vehicle lights. A three-position lever allows users to select or cancel left and right turn signals. All three functions are indicated with universal markings, so the legends are recognizable by any user.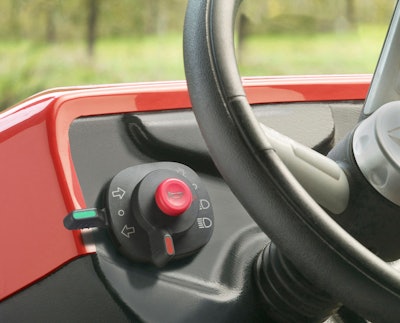 Proper sealing is critical to ensure these types of signaling device can survive the elements. Designers should verify the device is rated for IP67 according to IEC 60529, which means it is protected against solids and dust intrusion, and it can remain immersed in water while under pressure for short periods of time. Furthermore, because vehicles may be operated in environments ranging from deserts to the artic, a wide operating temperature range is needed, for example -40 to +85 Deg C (-40 to +185 Deg F). Devices made from polyamide (PA) nylon are a good choice for this service because they offer superior wear and impact resistance, combined with good temperature stability.
Many vehicles use a relatively standard instrument/gauge hole size of 2-1/16" (52mm) diameter, so designers will find that a signaling device which can be installed in this size dashboard or panel cutout simplifies planning and installation.
From an electrical standpoint, all contacts should be capable of operating at a standard vehicle voltage of 12 volts DC, with a current carrying capacity of 10 amps or 15 amps, and no greater than 25 megaohms of resistance. This ensures that the contacts can directly operate common loads, or they can reliably energize interposing control relays.
For best installation convenience and reliability, the device should be provided with a short pigtail connectorized with an automotive-type plug, intended to mate with an associated socket. The plug and socket must have a locking mechanism and sealing provisions to properly resist the vibration and moisture that can be experienced in off-road operation.
For the moving elements of the switches, an electrical life of at least 10,000 cycles should be specified, established through conservative testing, which implies a much longer useful life. As with many other industrial and marine applications, designers must specify that the devices are sized and rated to meet the need but provided durability where it counts so they can handle some mistreatment while remaining functional (see Figure 2).
OEMs for all types of consumer, commercial and industrial small, off-road vehicles already invest significant effort in developing their products. Simply because these vehicles move, there is a good chance that many may need some amount of on-road capability, which includes the requirements for operators to use a horn, turn signals and lighting.
By selecting a thoughtfully designed and suitably rated plug-and-play signaling control device, these OEMs can deliver this capability in a safe, reliable, and useful manner for their customers, without incurring the significant expense and risk of custom design.
Chris Do Vale is the senior component product manager for APEM, Inc.