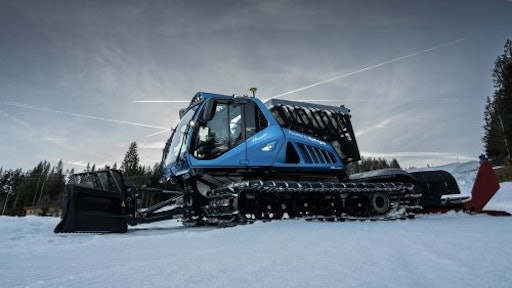 FPT Industrial
Read on in this industry update to learn about Doosan's rebrand, Holland Pump's acquisition and how Kohler plans to celebrate 150 years.
Holland Pump Acquires BPR Pumping & Vacuum Solutions
Holland Pump Company, a pump rental and dewatering solutions provider, announced that it completed the acquisition of BPR Pumping & Vacuum Solutions based in Pearland, Texas. The acquisition increases Holland Pump's capabilities to service municipal, infrastructure, industrial and mining projects in Texas. Learn more from the Holland Pump Company press release.
Doosan

Now Known as DEVELON

The familiar brand of orange construction equipment known as Doosan will now be called DEVELON throughout the world. Under the new brand name, the company will continue providing innovative products and solutions that exceed expectations, further cementing its status as a global leader in construction equipment and solutions for the infrastructure industry. Visitors to CONEXPO-CON/AGG in March will see the next phase of the launch with newly branded construction equipment in the outdoor DEVELON exhibit.
Learn more from the DEVELON press release.
Wejo Announces Data Agreement with Toyota
Wejo Group Limited, a provider of cloud and software solutions for connected, electric and autonomous vehicle data, announced a data agreement with Toyota Motor North America. The agreement will allow Wejo to provide personalized connected vehicle data services for participating cloud-connected fleet vehicles in the U.S.
Learn more from this Wejo press release.
Yanmar Plans to Expand Its Grand Rapids, Minnesota, Facility
Yanmar Compact Equipment North America (Yanmar CE NA), encompassing the Yanmar Compact Equipment and ASV brands, announced plans for a 32,000-square-foot expansion to its Grand Rapids, Minnesota, facility. The new expansion and a subsequent paint system will increase paint capacity by up to three times with maximum automation and allow a parts manufacturing capacity increase of up to two times the capacity in the previously occupied space. This project sets the stage for future capacity increases with company officials projecting the addition of hundreds of full-time positions over the next five years.
Learn more from the Yanmar press release.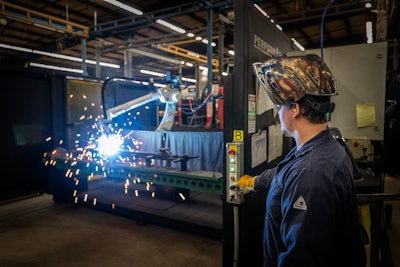 Kleanbus Completes Build of First Repowered Bus
Kleanbus completed the development of its first modular electric platform, installing the system into its first prototype vehicle. Combining e-powertrain components from Tier 1 suppliers with Kleanbus' own integration technology and proprietary software, Kleanbus' e-drivetrain in a box can convert a bus, whether single or double decker, from an internal combustion engine to fully electric quickly and cost-effectively.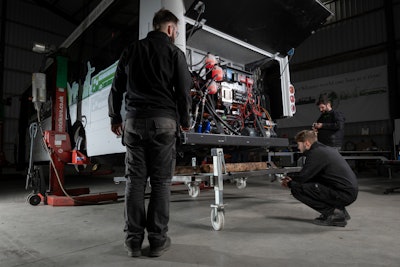 NODAR Expands Its 3D Vision Technology to New Markets
NODAR, the leading provider of advanced stereo vision technology for autonomous vehicles, announced today that it is moving to accelerate the growth of the autonomous vehicle market and ensure the development of safer autonomous solutions by expanding to new markets, including last-mile delivery vehicles, trains, boats, air taxis, drones, and commercial and agricultural vehicles.
Learn more from the full NODAR press release.
Kohler Co.

Celebrates 150 Years

As Kohler embarks on its 150th anniversary, the global organization invites all associates, partners, and customers to participate in the celebration through a series of special events and activations around the world, including limited-edition product releases, commemorative apparel, and storytelling through digital content – all captured under the anniversary theme of Come All Creators.

Learn more from the anniversary section of the Kohler website.
Copenhagen Infrastructure Partners Chooses DNV for Technical Safety and Sustainability Assurance
DNV, the independent energy expert and assurance provider, was awarded a framework agreement contract by Danish fund management company Copenhagen Infrastructure Partners to provide independent safety, environment and sustainability technical assurance to the HOEST PtX Esbjerg project in Esbjerg, Denmark.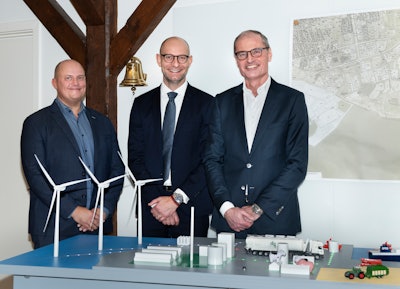 FPT Industrial's New XC13 Hydrogen Combustion Engine Makes Its Field Debut at Flachau Ski World Cup
FPT Industrial, producer of low environmental impact solutions, and PRINOTH, a producer of snow groomers and tracked vehicles, provided additional excitement during the Ski World Cup in Flachau (Austria). According to the press release, the LEITWOLF h2MOTION is the world's first hydrogen-powered snow groomer with an internal combustion engine manufactured by FPT Industrial.
Learn more from FPT Industrial's press release.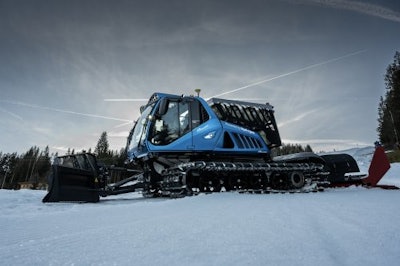 Trelleborg Gains IATF Certification in the US
Trelleborg Sealing Solutions gained International Automotive Task Force (IATF) Certification to perform subassembly work for automotive manufacturing customers and Tier 1 suppliers at its ServicePLUS Centers located in Menomonee Falls, Wisconsin; Vancouver; Washington; Ontario; California; and at its logistics center in Fort Wayne, Indiana. The four newly certified sites join 17 other Trelleborg IATF certified ServicePLUS and manufacturing locations in the Americas and Europe.
2023 CICEE Spring Symposium Held in Beijing
On January 15, 2023. The Organizing Committee of Changsha International Construction Equipment Exhibition (CICEE) held the 2023 Spring Symposium in Beijing. Representatives and experts from national business associations such as China Construction Industry Association, China Civil Engineering Society, China Construction Enterprise Management Association, China Chamber of Commerce for Import and Export of Machinery and Electronics, China International Contractors Association, China Chemical Construction Enterprises Association, and China Municipal Engineering Association participated in the symposium.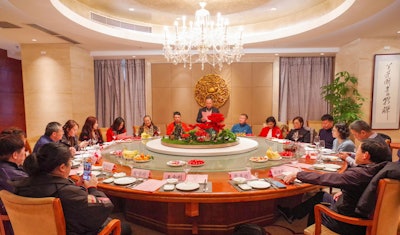 New Hires, Promotions & Awards
Case IH and New Holland win 2022 Good Design Awards
Case IH and New Holland, global agricultural brands of CNH Industrial, were awarded 2022 Good Design Awards. The Case IH Patriot 50 series sprayer and New Holland's Straddle Tractor Concept and TK4 Tractor received recognition.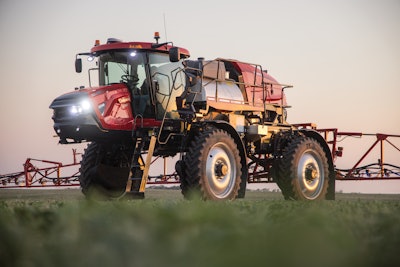 Case IH's Patriot 50 series sprayer is designed to help farmers work more productively and efficiently. From the comfort of the cab, the operator has complete control of the vehicle's connectivity solutions and integrated spray technology.
New Holland's Straddle Tractor Concept was realized in collaboration with automotive design house Pininfarina. It satisfies the requirements posed when working in narrow vineyards.
New Holland and FPT Industrial's TK4 Methane Power vineyard crawler tractor blends style, function and sustainability. It is powered by the FPT Industrial F28 engine which runs on biomethane.
Learn more from this CNH Industrial press release.
Navistar Names Chief Strategy and Transformation Officer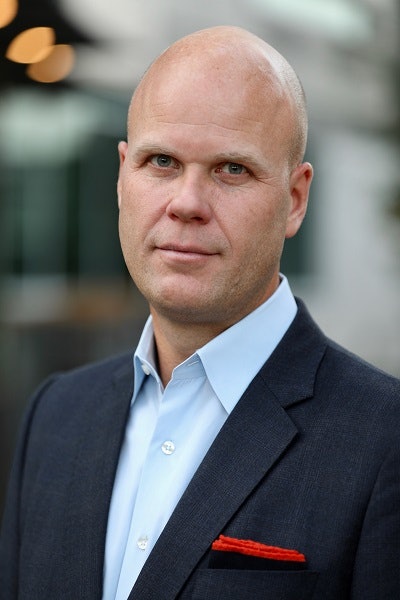 Tobias Glitterstam has been named senior vice president, chief strategy and transformation officer at Navistar. This new role will report to Mathias Carlbaum, president and CEO. As a member of Navistar's executive leadership team, Glitterstam will be the steward for strategy implementation and he will accelerate sustainability efforts.
Learn more from the Navistar press release.
ZF Announced New Executive Management Team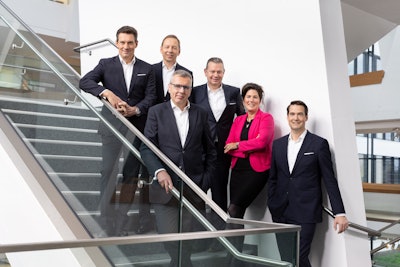 The technology company ZF started the year with a newly formed board of management team. Dr. Holger Klein has been CEO of the company starting January 1. Michael Frick, chief financial officer, and Peter Laier, in charge of commercial vehicle and industrial technology, are new members of the board, which has been reduced from seven to six members.