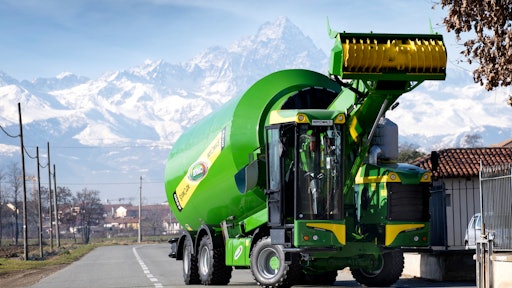 Bravo srl, a machinery manufacturer in the livestock industry, recently began a project to increase the efficiency and safety of its Rotomix 6500 feeder mixer. The new integrated technology solution not only shortened time-to-market; it also significantly increased the productivity of the Rotomix 6500.
Bravo srl is a Cuneo, Italy-based company founded in 2001 through the merger of two companies in the manufacture of machines for livestock applications. One of those companies was Rotomix. The Rotomix 6500 is a high-power, high-tonnage self-propelled feeder mixer that is highly popular among large farms seeking the maneuverability associated with smaller models.
The Challenge
Bravo wanted to update the cabin layout of the Rotomix 6500, which had a somewhat outdated style with too many relay cables and no user-friendly human-machine interface (HMI). The company knew that the successful execution of this project would enhance overall operator experience and increase productivity.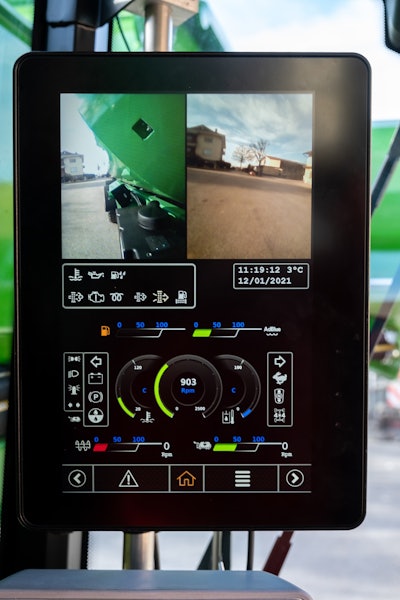 Improving the productivity of machines and vehicles has become of paramount importance for off-highway OEMs and their suppliers. While many manufacturers focus exclusively on increasing engine power, OEMs can unlock further benefits by upgrading the overall design of the machine.
Following comprehensive discussions to understand the customer's requirements and ambitions, a fluid power manufacturer provided the integration of its controller, display, rotary sensors, joystick, pumps, motors, and service software.
The new display brings modern features to the cabin of the Rotomix 6500, allowing for a clear viewing experience due to its high brightness, optical bonding, and anti-glare screen technologies. Operators can see principal parameters on the display and use the two connected cameras to monitor around the machine. Furthermore, the service software allows operators to read and update machine parameters, gather analytics, and download applications to hardware. As an additional benefit, the new cab concept clears up space from overcrowded relay cables.
Advanced Machine Control
The same fluid power manufacturer also provided the redesigned cabin with advanced machine controls, which can now manage the aftertreatment system engine feature. With this capability, the operator is aware of and clearly understands the engine's requirements and its current process status.
Advanced machine controls also improve machine efficiency thanks to their ability to identify faults and malfunctions, while error codes are reported to the operator on the display screen.
Today, the logical layout of the controls makes it intuitive and simple to use the Rotomix 6500 in full operator safety. Control and precision with cameras for 360-degree visibility and anti-collision sensors, among many other advanced technologies, make it one of the most innovative cabs in the sector.