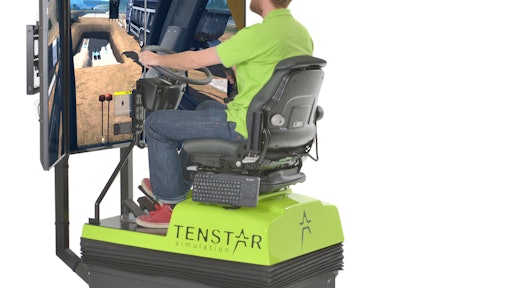 In connection with the world's largest machinery exhibition CONEXPO in Las Vegas, Tenstar launches a whole new layer of training with Multi Machine Environment and Tenstar Scoring System.
Multi Machine Environment - MME
Tenstar Simulation has recently released MME (multi machine environment) allowing several machines to interact with each other in the same site environment. Visit the company's booth to witness the tracked 360 excavator, articulated dump truck and dozer working together in such an environment.
The MME introduces a whole new layer of training that is often difficult and very costly to replicate in real-world conditions without high risk to the students during their learning period.
Tenstar Scoring System
Provides a score based on safety, quality and economy. The reporting tool enables a follow up on the student's progress and charts the improvements over a given period of time. The real time feedback provided via the scoring system to the learner is vital in ensuring continued focused improvements are achieved in targeted key areas and a permanent record is logged on the system.
Combination Simulator
Several machines combined into one simulator station, switching between each machine type takes minutes and does not require the exchanging or switching of various control levers.
Dozer Simulator
Tenstar has recently released a brand new six-way blade dozer simulator. This machine is available within its Multi Machine Environment and will also include individual exercises with a full scoring system report.
Features that provide realism
Tenstar Simulation provides realism utilizing with professional hardware together with life-like movement through its state-of-the-art fully user-adjustable motion base unit.
Exercises with focus on control and safety
Tenstar Simulation exercises are designed with a focus on control and safety. There are numerous tasks for the students ranging from pre-start and maintenance checks and progressing to basic control and maneuvers culminating in more advanced operations such as use of tilt and rotate buckets and Laser/GPS machine control systems.
Tenstar today offers a wide range of simulators for construction, transport and agricultural machines.