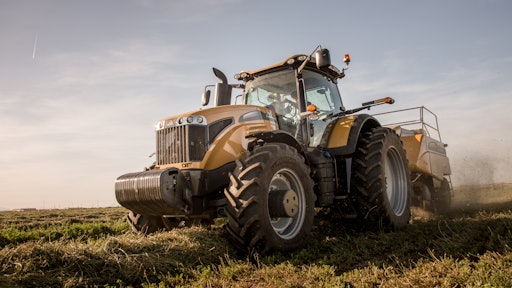 Challenger, a global brand of AGCO Corporation, introduced a new 9-in., touchscreen Tractor Management Center (TMC) terminal and comprehensive offering of precision farming technology on the Challenger MT600E Series high horsepower tractors during the 2017 World Ag Expo. These tractors are now available with full integration of on-board precision technologies, including AgControl section and variable rate control, as well as TaskDoc Pro wireless data transfer. As part of the Fuse open approach to partnerships, customers will be able to choose either the NovAtel SMART6-L or Trimble AG-382 receiver to best match their existing base station and coverage needs.
"The Challenger brand is synonymous with power, and these enhancements take the MT600E Series to a new level, beyond physical power to intelligent power," says Eric Zimmerman, Marketing Manager, High Horsepower Tractors at AGCO. "The simple, straight-forward operation of our new TMC, plus the full offering of precision farming technologies and choice of guidance receivers are a comprehensive package that will help our customers reduce operator fatigue, implement overlap and over-application of inputs to set new benchmarks for productivity and efficiency."
The all new TMC terminal is responsive and easy to use with a more convenient approach to machine and implement control. It features a simplified menu and enhanced, flexible navigation solutions. Easy-to-recognize icons bring the user a consistent experience across all menu functions used to control the tractor, implement and on-board technology.
Other features of the new TMC are video input for one camera; four CAN inputs; one USB input; an Ethernet port and Bluetooth capability. In addition, the on-board power of 4GB of memory and 1GB of RAM will handle days of work and data. The MT600E Series tractors also feature AGCO's common electronic architecture, to help ensure the tractors and on-board technology are compatible with a wide range of implements across multiple brands, so producers may use their choice of implements best suited to their farm.
This combination provides producers with the tools and flexibility they need to improve the accuracy and efficiency of their crop production practices. As with all Challenger products, behind every Challenger MT600E Series tractor is an authorized dealer who's prepared to help customers get the most from their investment.
Other enhancements that help make demanding jobs and long days easier are LED work lights; additional direct rear linkage controls; an in-cab toolbox; a cup holder in the console; reduced noise from the front wiper; rear window wash; lighting for the entry steps and a lockable cap on the DEF tank.
Challenger MT600E Series tractors with these new features made their debut in Tulare, CA, at the 2017 World Ag Expo. The MT600E Series includes five models rated from 240-340 hp, all engineered to provide responsive power with lower fuel consumption.