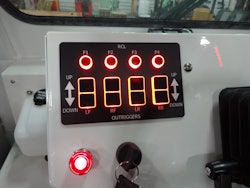 Broderson Manufacturing Corp. CEO Jeff Bust shares in three words why his team selected GS Global Resources.
It's about the "creativity and competence" delivered by GS Global Resources, Bust says.
In fact, since the initial decision to engage GS Global for machine control updates to its RT400 rough terrain crane, Broderson has sent additional projects to the electronic controls and hydraulics systems integrator. These include system design, integration and production support for Broderson's new RT500 rough terrain crane.
The six-year relationship has evolved to the point where Broderson also has hired GS Global to configure their machine operator cabs.
GS Global and Broderson developed an entire control system from the cab through displays, joysticks, sensors and hydraulics.