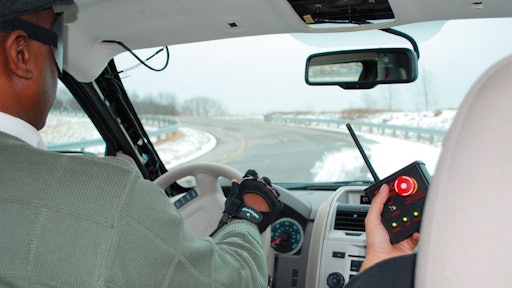 EAO Corporation of Milford, CT, a global supplier of Human Machine Interface (HMI) Components and Systems, was featured in NBC Today Show coverage of the NFB Blind Driver Challenge highlighting the development of the first full-sized blind drivable vehicle. The specially outfitted vehicle involved in the highly technical challenge was TORC Robotics' ByWire XGV, a roboticized Ford Escape Hybrid with integrated emergency safety systems, featuring EAO's Series 84 Emergency Stop (E-Stop) switch.
The National Federation of the Blind (NFB) challenged research universities and technology companies to design a car that would allow a blind person to drive with the same freedom as a sighted person. To meet this challenge, researchers from Virginia Tech's Robotics and Mechanisms Laboratory (RoMeLa) partnered with TORC to adapt its ByWire XGV, a mobile robotics research platform, and some of its advanced perception and navigation technologies to work with its non-visual interfaces: the DriveGrip and SpeedStrip. With the help of RoMeLa's vibrating gloves and seat pad, the driver receives instructional cues as to how to operate the vehicle. The driving decisions that a typical autonomous vehicle would carry out by itself were instead communicated to the blind driver, through the non-visual interfaces, who has full control over the vehicle and made all active driving decisions.
With safety being paramount in such a challenge, TORC's integrated SafeStop wireless emergency stop system, which provides remote pause and disable functionality, is used to safely bring the vehicle to a controlled stop at the push of a button. Manual stop buttons are also mounted inside and outside the vehicle for additional safety, as well as the SafeStop's handheld transmitter unit. EAO's Series 84 E-Stop switch was selected for this critical function.
Series 84 E-Stops offer a unique low back-of-panel depth at just 19 mm maximum, possible illumination, single "mono-block" construction, and a twist-to-release actuator. These product attributes allow for greater flexibility in applications ranging from handheld pendants to machinery and medical equipment. EAO's Series 84 E-Stops are rated at 3A 120V AC and 1.5A 240V AC, and are protected against oil and water to IP 65 standards. Series 84 E-Stops meet international safety specification ISO 13850 and comply with EN IEC 60947-5-1 and EN IEC 60947-5-5 requirements.
For more information on the blind drivable vehicle, and to see EAO's Series 84 E-Stop in action (at 3:26), please view the Today Show clip: http://today.msnbc.msn.com/id/26184891/#41934725.